24 May

Reimagining Disaster Philanthropy Together: Why Companies Should Work with Good360 in Disaster Recovery

Climate change is making the world a more dangerous place.
With the frequency and severity of natural disasters expected to increase dramatically around the globe in the coming decades, governments will face greater pressure to respond adequately to the rising levels of devastation. Inevitably, there will be gaps in disaster recovery, especially over the long-term.
This presents opportunities for the private sector to step up and offer critical aid in the form of cash grants, product donations, expertise, technology, volunteer mobilization, and awareness building. With large-scale resources at their disposal, corporations are increasingly taking on relief roles traditionally held by governments and NGOs. And most people expect corporations to take an active role in a major disaster.
According to the 2013 Cone Communications Disaster Relief Trend Tracker:
89% of global citizens think companies should leverage their unique assets to lend support to affected communities (such as mobile response units, in-kind donations and employee volunteers)

87% want companies to play a long-term role in relief efforts, not just immediate recovery

91% feel better about a company after learning about that company's support of disaster recovery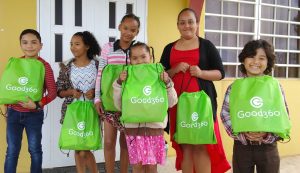 At Good360, we are in a unique position to help companies respond to the growing threat of natural disasters in the U.S. and worldwide. Our collaborative philanthropic approach unifies public-private-nonprofit communities to get the right product to the right people at the right time.By working with us, corporations can be assured that their product donations are not only properly distributed by fully vetted nonprofit partners, but also meet the actual needs of affected populations during every stage of the disaster recovery cycle.
Here are several key ways we are inspiring corporations to rethink disaster philanthropy:
Amplification
For every $1 donated to Good360, we are able to offer impacted communities a minimum of $10 in product donations by leveraging our deep network of corporate partnerships and established supply chain. This value proposition gets even more powerful when companies partner with their own employees or customers to expand the giving base.
For example, if a company matches an employee gift dollar for dollar, then a $1 gift from an individual becomes $2 and Good360 can amplify that into a minimum of $20 in needed goods, giving the individual the pride of knowing his $1 gift has been amplified at least 20 times. This makes cash donations to Good360 that much more compelling for employees and customers.
Educational Platform
For major disasters, we are able to launch online landing pages to educate and engage people about the event and to offer specifics on what product donations (if any) are needed at that moment. These mini-sites could be used by companies to raise cash donations while informing employees and consumers about purposeful giving in disaster recovery.
We also publish impact stories over the course of the disaster recovery journey, demonstrating the evolving needs in the field and how our partners' support helps us address those needs.  
Employee & Customer Engagement
Companies of all sorts are increasingly seeing great value in driving social change — for their businesses and their workforce's. Younger employees, especially millennial's and Generation Z, are gravitating toward corporations that are actively involved in social good. We can collaborate with companies to develop an appropriate giving program in response to a disaster.
For example, after Hurricane Harvey devastated large swaths of Texas, we teamed up with American Eagle Outfitters to raise awareness and cash donations from their employees and customers through social media. The company also donated $100,000 (they gave $250,000 in 3 separate corporate grants and another $95K from other sources – total of $345K)  toward short-term and long-term relief efforts.
Thoughtful Giving
Approximately 80% of giving happens in the first two weeks of a major disaster as people react to coverage in the news media. However, this means the "long tail" of disaster recovery is often neglected. It can take many months or years for affected communities to rebuild. We work closely with corporations to identify the best ways to help, not just in the first chaotic days and weeks of a disaster but also through the long-term recovery.
For example, our partner Armstrong Flooring made an early commitment to supporting hurricane recovery efforts, but knew that their product would be needed later in the recovery cycle.  We collaborated with them to hold on to donations of rolled vinyl and plank flooring so that they could be delivered to families at the appropriate time when those products could be used to rebuild their homes.
Communications
When disaster strikes, we know that employees and consumers alike are eager to respond. We can help companies communicate with their most important stakeholders (including their leadership) about the best ways — and times — to contribute to disaster relief efforts. We can offer press releases, social media posts, employee messages, and other communications materials that company leaders can distribute to educate their communities about product philanthropy, thoughtful giving and our unique nonprofit model.
Thought Leadership
Over the past year, we have established and convened the Good360 Disaster Recovery Council to evolve how corporations and nonprofits work together in disaster philanthropy. Our aim is to find ways to respond more efficiently and collaboratively. A large part of the GDRC's mission is to educate companies about best practices in disaster recovery, including using more data-driven models of philanthropy.
Changing the disaster-giving mindset from one that's reactive and often wasteful to one that's proactive and efficient will take time and collaboration across all sectors of the philanthropic community. At Good360, we want to put companies in the best position to make donations that are transformational and sustainable, not short-lived and short-term.