26 Sep

One Year Later: What We've Done and Where We're Going with Resilient Response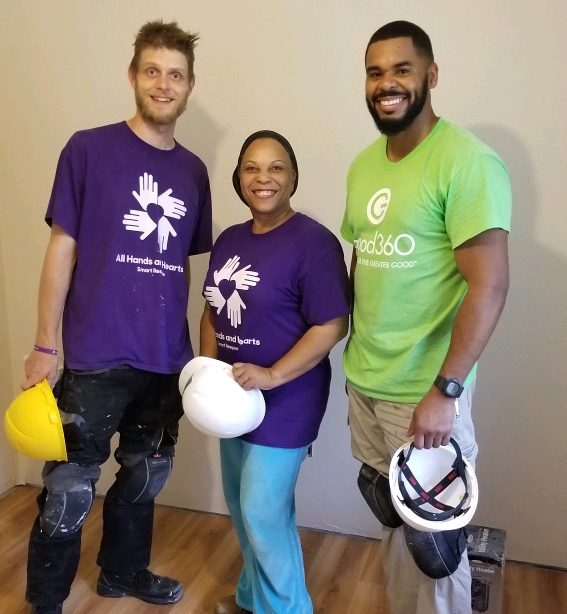 When Good360 launched the Resilient Response initiative a year ago on September 24, in partnership with All Hands and Hearts – Smart Response, we were well aware of the huge challenges ahead. We knew the sobering statistics:
An estimated 60% of goods donated during times of disasters end up in landfills or otherwise go to waste

Approximately 70% of donations occur within the first two months of a disaster

Only 5% of all disaster giving is ever allocated to long-term recovery and rebuilding
Indeed, these numbers underscore the reasons why we created the Resilient Response initiative in the first place. Often, the mode of response to large-scale, well-publicized disasters leads to a lot of inefficiencies, ineffectiveness, and waste. In advocating for a much-needed shift in disaster giving, we focused on changing mindsets within organizations with outsized influence — namely, some of the biggest and most well-known corporations in America.
We developed a six-point pledge that offers companies in particular an actionable framework for making disaster giving more strategic and more oriented toward the long-term health and resiliency of impacted communities. We then made a commitment to the Clinton Global Initiative to sign on at least 25 corporations to the initiative.
A year later, we're happy to report that we've made good on this commitment. Among the more than 25 companies that have signed the pledge are UPS, Walmart, Airbnb, CVS, Coca-Cola, Wrangler, Ecolab, United Airlines, Hasbro, Salesforce, American Eagle, Tumi, Dow Chemical, Rooms To Go, Mattel, Texas Instruments, TD Ameritrade, CarMax, Levi's and Domtar.
We're also thrilled to announce that OneStar Foundation is joining forces with Good360 and All Hands and Hearts as a core partner to promote Resilient Response. OneStar's mission is to bring together key stakeholders across the state of Texas to advance collaborative approaches that build strong, resilient communities. The organization will leverage its leadership position in the nonprofit sector to help achieve our Resilient Response goals in Texas, where we have a number of key partnerships already, including with the Rebuild Texas Fund.
During the past year, our efforts have focused on increasing the visibility of Resilient Response and reaching out to key decision-makers involved in disaster giving, especially in the for-profit sector. We have spoken at several select conferences on the topic of resilient response, including the From Day One Conference, the Responsible Business Summit, and the 8th Annual Building Resilience Through Private-Public Partnerships Conference in Washington, D.C. We have brought our story to the national press, generating stories in Fast Company and Charity Navigator, and segments on CNBC and MSNBC.
In June, we convened the Resilient Response Texas Forum in Houston and brought together leaders from across the nonprofit and corporate sectors to share best practices in disaster response as well as identify challenges and solutions. At the forum, participants zeroed in on five key barriers to implementing effective disaster aid and identified ways that nonprofits can embrace the Resilient Response framework. 
But there is a lot of work still to be done. In the next phase of the Resilient Response initiative, we want to move from spreading awareness to developing actionable, real-world strategies and KPIs to measure how companies are helping communities to become more resilient.
We realize that committing to the Resilient Response pledge is one thing and actually implementing programs and initiatives within organizations to support it is another thing entirely. As companies rethink their approach to disaster giving and response, we want to give them tools to put their plans into action.
For example, one idea would be to develop a set of key metrics that would allow companies to quantify the progress that they're making toward resilient response. This would encourage organizations to move from the brainstorming and thinking stage to the point where they're putting programs in place and seeing measurable change.
The principles behind Resilient Response are currently in place in the aftermath of Hurricane Dorian, which devastated the Bahamas, and Tropical Storm Imelda, which brought record-breaking floods to southeast Texas.
"We are working closely with our corporate donors and nonprofit partners to get critically needed relief supplies to impacted communities at the right time," said Good360 CEO Matt Connelly.  "We've secured commitments of more than $1 million in donated goods destined for the areas hit hard by Dorian alone, and we are organizing the logistics to get these goods where they're needed the most."
Together with All Hands and Hearts, and OneStar Foundation, we're committed to improving disaster response in times such as these so that the most vulnerable communities are better able to withstand future disasters.
You can join the movement too. Sign the pledge today and stay up-to-date as we build out the Resilient Response initiative. Also, keep us posted on individual efforts within your own organization!