03 Nov

Native American Heritage Month: How Hopi Relief Brings Hope & Assistance with Good360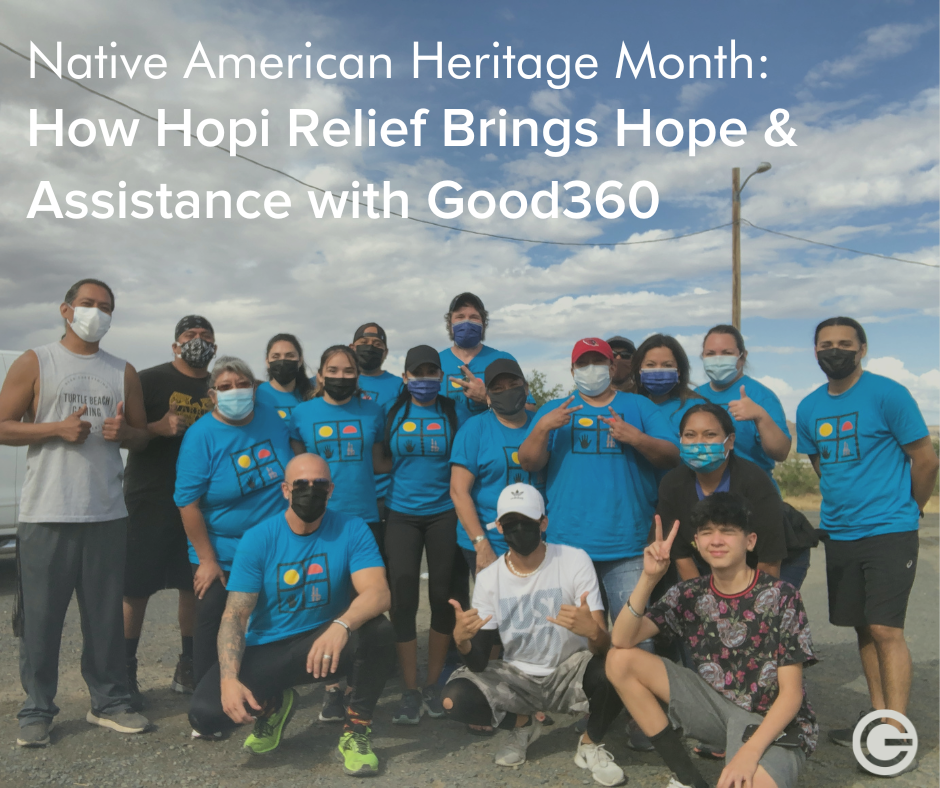 The COVID-19 pandemic left a path of illness and death across the U.S. 
But data shows that some of the hardest hit populations were Native American and Alaska Native tribes living on reservations across the U.S. These communities were especially vulnerable to the ravages of the pandemic due to historical factors, including entrenched poverty, chronic illness, and lack of access to good healthcare.
At least one in four Native Americans lives in poverty, according to the Department of Health and Human Services. Racial discrimination has also broadly contributed to poor health outcomes. The prevalence of obesity, diabetes and heart disease—risk factors for COVID-19—is high in these communities. And on reservations where crowded, multi-generational living arrangements are common, the virus was difficult to control once it got a foothold.
Native Americans died at a shocking rate from COVID. As a result, life expectancy for Native people dropped six and a half years in 2020 and 2021—a decline that is double the rate for all Americans.
It was against this devastating backdrop that Hopi Relief was born. The nonprofit organization and Good360 partnership grew out of an effort by Tom Kaye and his sister, Kiona Arellanes, to bring aid to residents of the Hopi Reservation in Arizona, in the months before the pandemic got serious in 2020.
"In the beginning of the pandemic, we wanted to bring food supplies to the reservation," Kaye recalled. "We started with one car on a Friday and by Sunday, we knew we needed a U-Haul. When we got up there, we realized it was nothing compared to what was needed."
The Hopi Reservation sits on approximately 2,500 acres of land in northeastern Arizona. Completely surrounded by the Navajo nation, it's home to some 7,000 Hopi people. They live in 12 independent villages across three mesas. These are some of the oldest continuously inhabited settlements on the North American continent, dating back to 1100 A.D.
Resources have always been scarce on the reservation. According to Kaye, there's not a single food pantry available to help families who are struggling with food insecurity. The nearest grocery store is some 60 miles away from most villages.
"It's a food desert in every sense of that word," Kaye said.
Very quickly, Kaye and his sister turned their ad hoc relief effort into a bona fide nonprofit. They became recognized as a 501(c)(3) and began soliciting donations and grants. They were able to tap into federal tribal funding and connected with the USDA Food program for assistance.
Hopi Relief also began partnering with Good360. Through our Direct Truckload program, we enable the organization to augment their donations of non-perishable foods with needed goods, including clothing, blankets, personal hygiene products, home and kitchen items, baby products, and furniture.  
"Working with Good360, we can get products like clothing and blankets, which means it's one less thing we need to buy and we can focus on getting food to the families," Kaye said.
Operating out of a warehouse in Peoria, Hopi Relief organizes donation events every month, bringing up 100 boxes of food at a time to the reservation. 
The nonprofit has only one paid employee—executive director Wendi Lewis, who is 100% Hopi and lives on the reservation.  Hopi Relief is almost 100% powered by volunteers. 
In the future, Kaye hopes to be able to establish a facility on the actual reservation where a food pantry can be operated. 
During November, which is Native American Heritage Month, Kaye said he wanted to bring attention to the history of the Hopi tribe (known as the "peaceful people").
"I want people to know that we're still fighting for our land. We're still fighting for our culture and for equality," Kaye said. "A lot of people don't realize that we're still here. We have a deep and rich culture that's been connected to the Earth since ancient times. We're still fighting to maintain our culture."