07 Sep

How Nonprofits Can Collaborate to Enhance Disaster Resiliency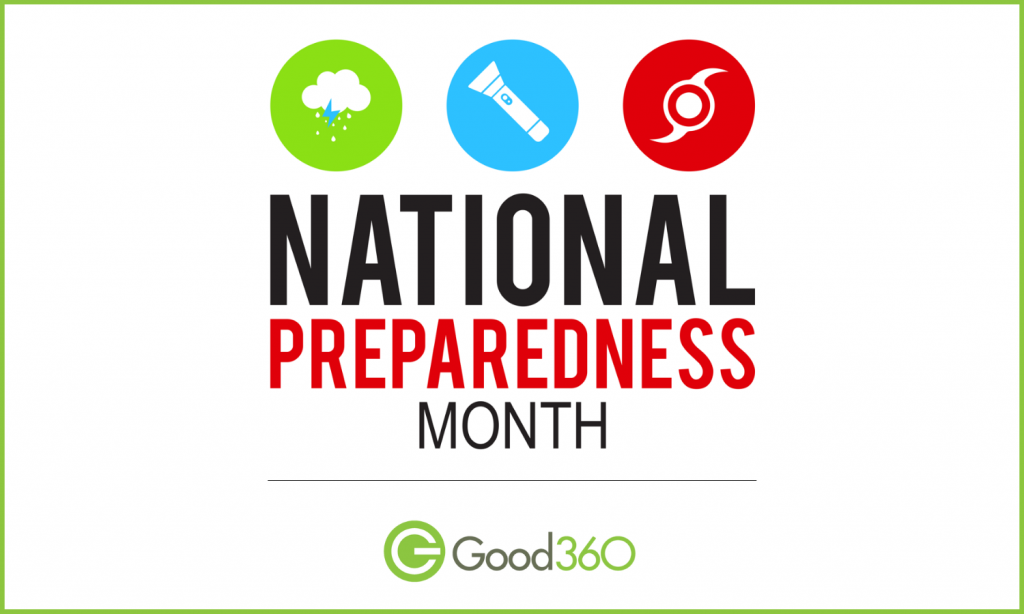 National Preparedness Month takes place every September.
With the intention of reaching underserved Latinx and Black communities, this year's theme takes a highly personal approach by asking people to think about protecting their "lasting legacy."
"The life you've built is worth protecting. Prepare for disasters to create a lasting legacy for you and your family."
For Good360 and our nonprofit partners, National Preparedness Month serves as an annual reminder to revisit our disaster response planning: How prepared is your nonprofit to respond in a disaster? What steps have you taken to improve your organizational resilience? Do you have a strategy in place to maximize the impact of donations after a disaster? Are you thinking about long-term as well as short-term needs?
One of the critical strategies that we have long stressed is the importance of establishing key relationships and partnerships in "blue sky times" before a disaster strikes. Here are some ways to go about doing that:
Prepositioning resources with strategic partners
In every disaster, the impact on the supply chain is a major consideration. How do you get the right goods to the right people at the right time?
To mitigate the logistical challenges, consider who you can partner with to preposition critically needed supplies in strategic locations. This might be a partner with access to storage facilities such as a warehouse or an office space. Or it could be a partner with logistical expertise, manpower, and/or equipment.
In recent years, Good360 has been working with various partners to preposition goods in order to shore up our disaster responsiveness. This June, our Disaster Response team began reaching out to representatives from UPS-owned Coyote Logistics and LIFT Non-Profit Logistics to find storage space around the country for prepositioning purposes. 
We identified the LIFT warehouse in Jacksonville, Florida, as an ideal location because of its close proximity to the southeastern U.S. and the Gulf Coast. We worked with the Coyote team to preposition products in Jacksonville. 
Once the product arrived at the warehouse, Coyote and LIFT Logistics conducted a proof-of-concept exercise in which they loaded and flew a cargo freight plane to a predesignated Carribean location and back. This collaborative  exercise confirmed the ability to load, fly, return, and unload critical disaster response products efficiently and safely.
Establish partnerships to share key capabilities
It's not just hard goods you should consider. Think about the human resources your organization will need in a disaster.
In tranquil times, reach out to other nonprofits and companies that may have access to key capabilities that your organization lacks so that you can respond more quickly and effectively in a disaster. For example, you might partner with local churches or colleges to tap into their highly engaged volunteer bases in the event of a catastrophe in your area. Or there may be a company with access to trucks, drivers and heavy equipment that would be willing to lend a hand.
For-profit companies can be excellent sources of skilled workers that could be extremely helpful in an emergency, such as experts in supply chain management, logistics, crisis communications, public relations, website development and case management. These companies may be able to provide services on a pro bono basis during a disaster. 
The key is to hammer out agreements ahead of time so you're not scrambling to make these connections when it's chaotic and much more urgent.
Remember that the business sector is highly invested in helping local communities to recover from disaster. A natural disaster can devastate the local or regional economy, and the faster a community recovers, the more likely residents (i.e. customers) will be back on their feet and supporting businesses again.
These kinds of collaborative, cross-sector partnerships are integral to achieving resilience in disaster. This September, take a moment to evaluate your disaster planning and see if you can strengthen it with key partnerships.