17 Aug

National Nonprofit Day: The State of the Nonprofit Sector and How Good360 Can Help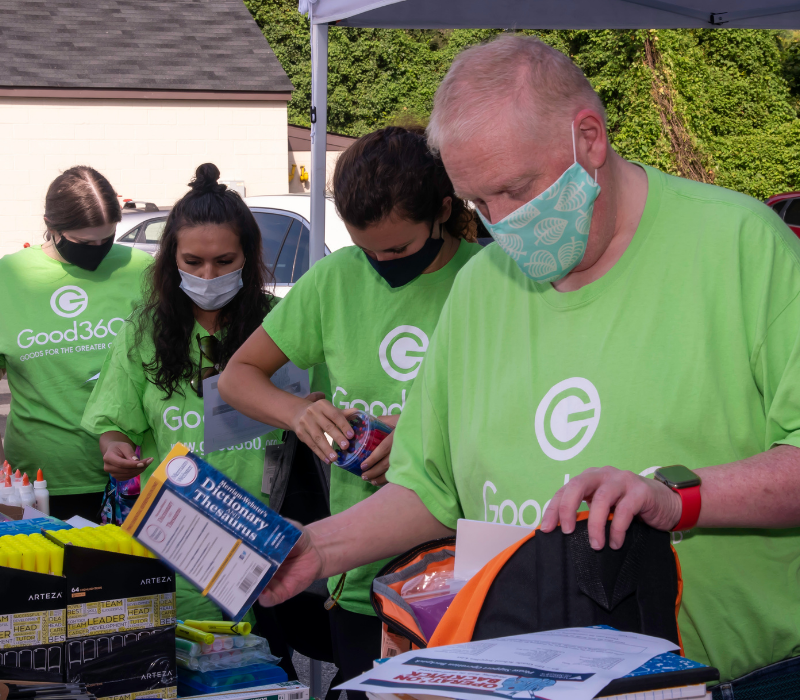 If you're a nonprofit organization operating in 2021, you likely endured one of the most tumultuous periods in your history.
The COVID-19 crisis shook up the nation and the world. It did not spare the nonprofit sector. The pandemic led to a surge in need in communities from coast to coast. At the same time, many (but certainly not all) nonprofit organizations experienced declines in revenue as cash-strapped donors held back.
However, increased support in the way of Paycheck Protection Program (PPP) loans, and more generous and looser giving from private foundations made up some of this shortfall.
As we celebrate National Nonprofit Day, we're taking a look at the state of the nonprofit sector, how Good360's own nonprofit network has grown, and how we can help nonprofits drive a bigger impact in their communities.
How nonprofits are faring now
Where does the nonprofit sector stand today? The Center for Effective Philanthropy recently surveyed 163 nonprofit leaders to find out. The CEP report, "Persevering Through Crisis: The State of Nonprofits," offers three main findings:
Most nonprofits (66%) reported that the pandemic had a moderately to significantly negative impact on their operations. It forced a majority of organizations (88%) to alter their programming with 58% cutting programs or services, and 49% reducing operational costs in 2020.

However, more financial support from foundations, individual donors, and the government buffered some of the worst economic effects of the pandemic. For example, nearly half of respondents (48%) reported a bump in gifts from major donors.

Many nonprofit leaders said they found foundation funders to be flexible, responsive, and communicative in 2020. However, nonprofits led by women and those serving certain communities (including Asian, Middle Eastern and Native American populations) found a less receptive audience for their concerns.
Going into 2021 and beyond, one of the biggest questions for nonprofit leaders is how long the attention — and dollars — that poured in during the pandemic will last.
"There is still so much uncertainty about the rest of 2021 and perhaps even into 2022," one nonprofit leader told the CEP. "We need unrestricted funds and flexibility in the timing of their use. The challenges and expenses we anticipate now may change in a matter of weeks or months."
Good360's nonprofit network hits a milestone
One of the major reasons why corporate donors prefer to partner with Good360 is due to the size and strength of our nonprofit network. As you might know, we make sure every nonprofit in our network is qualified to receive product donations from our corporate partners.
We recently surpassed the 100,000 mark in terms of the number of qualified nonprofits that are officially registered with Good360. (Not registered yet? It's totally free. As a member, you can access our plethora of product donation programs. Start here.)
The latest survey of our nonprofit members revealed some interesting facts:
63% saw donations decline during the pandemic and 60% said COVID-related restrictions affected fundraising efforts

The largest share of our members (21%) had operating budgets of less than $25K, while 13% reported annual revenues in excess of $1 million

The majority of members (58%) had 25 or fewer employees, while only 4% had more than 100 staffers

Human services (22%) accounted for the largest area of focus, followed by faith-based activities (11%), education (10%) and youth development (9%)

Among our members, the most in-demand product donations were personal care items, clothing, home goods and office/school supplies.
How we're helping nonprofits and charities do more
According to another report on the health of the nonprofit sector post-COVID, policymakers and funders can assist nonprofits by: 
Helping ensure they have access to adequate resources

Giving them more flexibility to carry out their programs and services
The report by BKD CPAs & Advisors underscores the value of working with Good360 for nonprofits. By making it easier for nonprofits to access donations from large corporations, we're helping nonprofits to get the resources they need without going through a sea of red tape — or buying products at retail. 
According to our survey, 43% of our members purchase items at retail stores and another 19% buy from online vendors. When members obtain products from Good360, they pay only nominal admin fees that help us cover shipping and handling costs. This means that they are able to get products for pennies on the dollar compared to what they would pay at retail.
The end result is that Good360 helps nonprofits devote more of their budget to direct programs and services — which really means they can make a bigger impact with their existing dollars and serve more of their constituents better.
On this National Nonprofit Day, please consider joining Good360 as a member if you aren't already. Together, we can make a bigger difference and transform lives for the better.