23 Nov

How We Do More Good, More Efficiently with Our Regional Operating Centers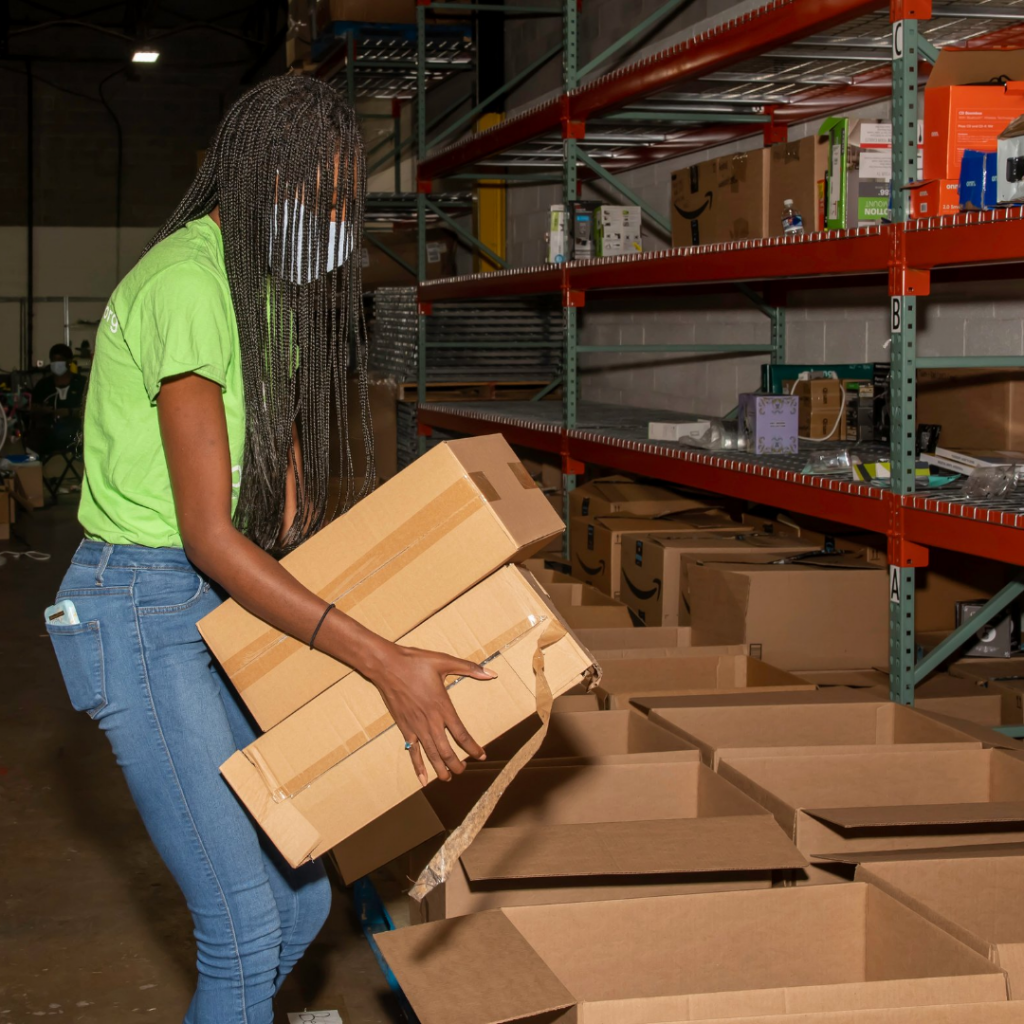 At Good360, we're continually looking for ways to make our supply chain more efficient.
After all, the more efficient we are at moving the right goods to the right people at the right time, the more we can help our nonprofit network and corporate donors achieve their goals of serving communities in need.
Most of the donations that Good360 receives come from large retailers, national brands and other for-profit companies. That leaves us at the mercy of their supply chains, which can be affected by a myriad of factors. These include customer returns, seasonal demand, consumer trends, labor shortages, the availability of truck drivers, and warehousing capacity, among others.
As a result, we see quite a bit of unpredictability as donations come in from various donors from across the country. In 2020, we distributed more than $870 million in needed goods. It's not a small amount of inventory to manage.
Our national warehouse in Omaha, Nebraska, centralizes much of the product intake, sorting and shipping that's required to move donations at scale to our network of more than 100,000 registered nonprofits. But it doesn't completely mitigate unpredictable inventory volumes.
A 'ROC' solid solution
That's why we decided to establish Regional Operating Centers, or ROCs as we like to call them.
The ROCs help to steady the supply chain for our nonprofit members. They serve as "capture zones" to absorb any shocks in supply, creating a more predictable and consistent stream of donations during peak and low-volume periods.
These ROCs are generally larger than our Community Redistribution Partners (CRPs), which are nonprofit agencies that also redistribute Good360 donations to member nonprofits. An average CRP operates a 2,000 to 10,000 square foot warehouse, has a service area of 50 miles, owns one or two box trucks, and has limited ability to sort large numbers of pallets. 
By comparison, ROCs cover 250 square miles, operate a 30,000 to 50,000 square foot warehouse, typically contract with third-party logistics (3PL) companies, and have the ability to sort many pallets into specific categories.
Being able to sort through pallets of products is critically important because it allows us to send products downstream to our nonprofits in more manageable quantities, segmented by categories that are useful for them. Many organizations don't have the warehouse space, trucks or staff required to take in huge quantities of donations. 
This is one way that the ROCs add a lot of value to our supply chain. They also remove waste, and recycle packaging and unusable products.
Location, location, location
We are also being very deliberate in terms of where we are setting up these Regional Operating Centers. Our "priority zones" have the following criteria:
Access to efficient trucking lanes

Situated near large donor warehouses

Located near Good360 nonprofits that take advantage of our

Direct Truckload

program

In areas with high poverty and/or in disaster-prone states
By capturing donations closer to their origin points and by being closer to our end users (nonprofit partners), we reduce the need for expensive long-haul shipping, cutting costs,  increasing energy efficiency and decreasing our carbon footprint.
Additionally, by focusing on areas with high concentrations of communities in need or that are more vulnerable to disaster, we can preposition donations to respond faster in an emergency.
Where we are now and where we're going
Currently, we have established three ROCs in partnership with these nonprofits:
Looking ahead, we are looking at partners in or near Dallas, Indianapolis, Atlanta or Chicago to open more ROCs.
Our ROC strategy will work best when we have numerous facilities strategically located around the country, allowing us to maximize our geographic reach while minimizing our shipping costs. Together with partnering nonprofits, we can do more to distribute more goods and do more good for communities in need.