09 Sep

How to Help Afghan Evacuees Arriving in America
America's 20-year war in Afghanistan officially ended on Aug. 30, when a U.S. military C-17 carried the last American troops out of the country.
But a whole new mobilization is already afoot to resettle more than 100,000 people, including many women and young children, that have been evacuated from Afghanistan since the airlift began Aug. 14. Many of these evacuees assisted American forces during the conflict, the longest in U.S. history. (To see some incredible images of the evacuation by U.S. military forces, visit this Department of Defense page.)
The resettlement effort has attracted a broad coalition of agencies and volunteers, including faith-based organizations of all stripes and other groups that might otherwise be at odds politically. They're united by a shared sense of responsibility to the Afghan people.
The New York Times put it this way: "Throughout the United States, Americans across the political spectrum are stepping forward to welcome Afghans who aided the U.S. war effort in one of the largest mass mobilizations of volunteers since the end of the Vietnam War."
"It's incredible," Krish O'Mara Vignarajah, president and CEO of Lutheran Immigration and Refugee Service, told the Associated Press. "It's an interfaith effort that involve[s] Catholic, Lutheran, Muslim, Jews, Episcopalians, Hindus … as well as nonfaith communities who just believe that maybe it's not a matter of faith, but it's just a matter of who we are as a nation."
Good360 is contributing to this massive effort. We are aiding efforts at several intake bases by providing product support for Save the Children and the American Red Cross.
A big population with big needs
The outpouring of support is sorely needed. Many of these evacuees are arriving under the formal U.S. refugee admissions program, which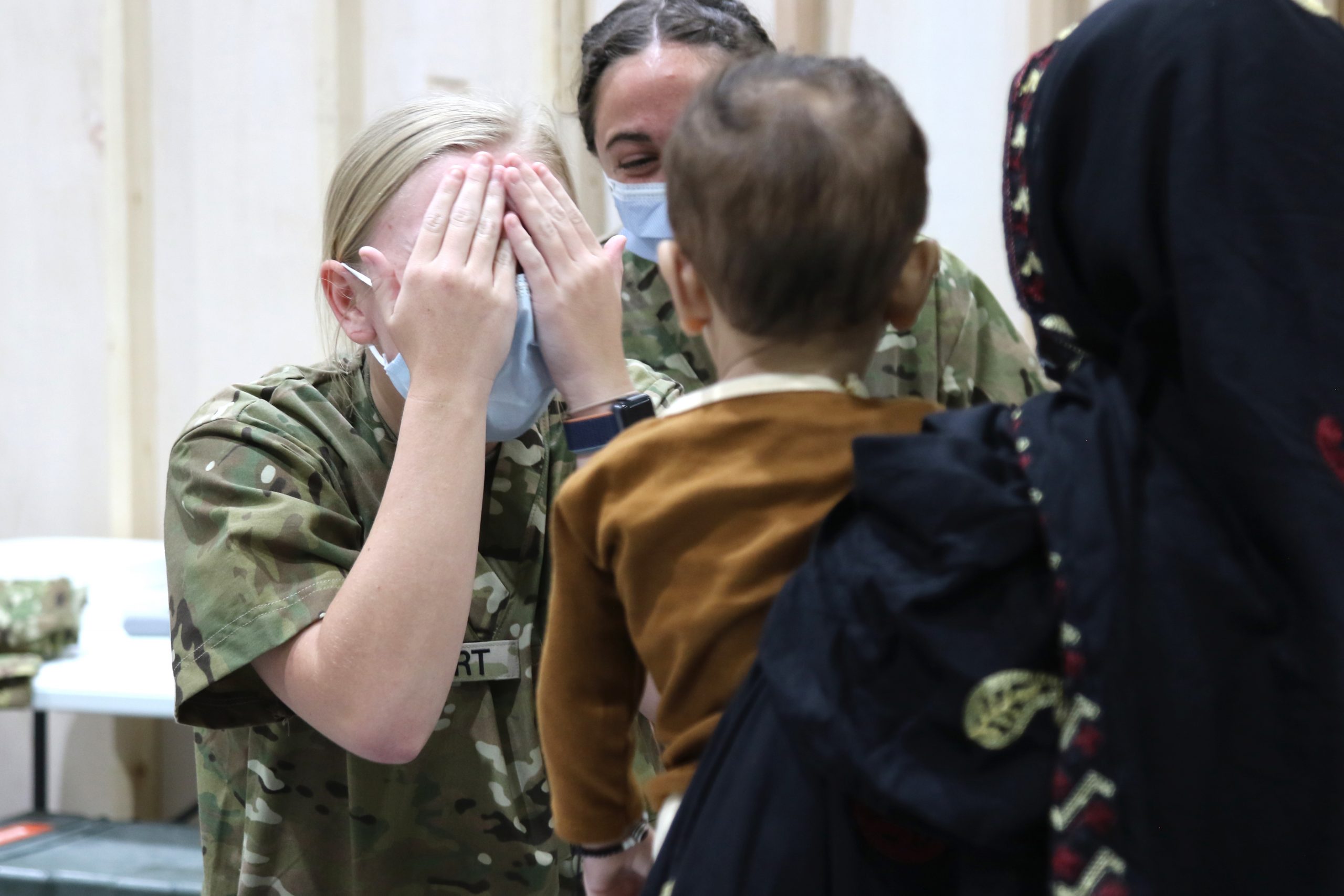 entitles them to receive some guaranteed assistance (a stipend of $1,200 per person, for example). However, up to 50,000 evacuees are coming in as "humanitarian parolees," which doesn't automatically grant them any kind of resettlement assistance.
A major concern is finding enough affordable housing — along with all of the furnishings and home goods a family would typically need. Other necessities include food, clothing and school supplies for school-age children. Additionally, the evacuees will need assistance filling out paperwork to register for social programs, getting transportation, grocery shopping, learning English and, eventually, getting jobs.
Who's helping and how you can help too
The U.S. State Department has contracted out nine primary agencies to help settle evacuees into American communities, including the International Rescue Committee, the Hebrew Immigrant Aid Society, Lutheran Immigration and Refugee Services, and World Relief. However, there are many more organizations that are assisting evacuees around the country.
The highly-rated

International Rescue Committee

is accepting cash donations online, and looking for volunteers in Phoenix and Denver to help with resettling evacuees.

Lutheran Immigration and Refugee Service is looking for

volunteers

to help evacuees with airport transportation, housing, meals and other basic needs. It's also accepting online donations.

Based in Phoenix, the

Welcome to America Project

is accepting donations of gift cards, apparel, shoes, bikes, and new or gently used household goods.

Airbnb, a Good360 partner, has started a program called

Open Homes

to encourage Airbnb hosts to offer free, temporary housing to evacuees.

The

Hebrew Immigrant Aid Society

is most urgently looking for volunteers to provide temporary or permanent housing for Afghan evacuees. It's also partnering with Airbnb and has

17 community affiliates

around the U.S. that are assisting as well. 

World Relief is seeking online donations to help Afghan families, as well as allowing people to send a

welcome card to arriving evacuees

.

The Church of Jesus Christ of Latter-day Saints (also known as the Mormon Church)

is

distributing supplies to thousands of Afghans temporarily housed at Ramstein Air Base in Germany, and working with the U.S. military to provide aid to 10,000 evacuees expected to arrive at Fort McCoy in Wisconsin.

RAICES

is helping Afghan families to resettle in the San Antonio area. Texas has become one of several hubs for evacuees.

​​

Human Rights First

is seeking pro bono lawyers to assist Afghan evacuees

.
One good way to find an agency that may be helping Afghan evacuees in your local area is to reach out to the regional offices of organizations that are highly rated on Charity Navigator for immigration and refugee services. The UNHCR has put together a useful list of refugee resettlement agencies here.
Donations of cash, household goods and housing (temporary and permanent) are all desperately needed at this time. Registered Good360 nonprofit members can tap into our inventory of available donations by going to our online catalog. (Not registered yet? It's free to become a Good360 member.)