22 Feb

How Some of Good360's Nonprofits Think About Race and Racial Inequality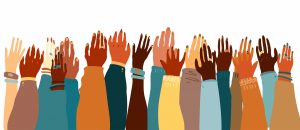 The COVID-19 pandemic was spreading across America at the same time we saw a renewed focus on racial injustice in this country.
The timing was coincidental, perhaps, but the result has been a greater awareness of the persistent inequities in American society, whether it's lower-paid "essential workers" who are risking more exposure to the virus to do their jobs or Black and brown communities that make up the disportionate number of people who encounter racial bias in policing.
As we celebrate Black History Month this February, we reached out to a couple of nonprofits in the Good360 network to talk about race, social impact, serving their communities and the COVID-19 crisis.
These organizations are seeing firsthand the devastation of the pandemic. At the same time, they're trying to address long-standing issues affecting communities of color: poverty, food insecurity, homelessness, and lack of access to healthcare, education and employment opportunities.
The Moore Wright Group
The Moore Wright Group (TMWG) is a nonprofit organization whose mission is to break the cycle of poverty, abuse and abandonment by providing hope.
With a vision to create communities where people can thrive, the organization primarily helps low-income populations in Alabama and Washington State. TMWG also serves as a Good360 Community Redistribution Partner by operating a warehouse where other nonprofits can source donated products.
During the pandemic, TMWG saw a big increase in need. Instead of working with a couple dozen agencies as it had in the past, the organization ended the year with more than 300 nonprofits and charities coming through its doors. It also significantly expanded its partnerships with several Native American tribes in Washington whose communities are struggling in the COVID economy.
Looking back on the racial turmoil of 2020, TMWG's executive director Tanikka Watford Williams recalled it as "a very emotional time." 
But Williams, who is African American, also said these conversations about racial inequality are "not new" — especially for people in communities of color.
Williams offered the example of George Washington Bush Middle School in Tumwater, Washington. The school is named for the pioneer who was among the very first African-American landowners in Washington State. He helped many families settle in the Seattle area during the 1840s and 50s.
Yet, few people know about George Washington Bush and his contributions to the settlement of the state, Williams said.
"Black History Month cannot just be this month," she said. "People are more focused on it now because of everything we saw last year, with Black Lives Matter and the election and January 6th. I've been Black my whole life. I've always felt we needed to have more conversation around our history and the contributions of Black people in our community."
Shiloh Church of Memphis – Place of Praise
The Shiloh Church runs a food ministry that serves low-income families in Memphis and Lexington, Kentucky, and offers social services in Morgan County, Alabama.
The charity also operates as a Community Redistribution Partner for Good360 with an additional focus on delivering needed goods in times of disaster.
Shiloh Ministry serves a predominately African American population that struggles with low employment, poverty and food insecurity, according to founder and executive director Vivian Fry.
When Fry thinks about the lessons of Black History Month and Black Lives Matter, two words come to mind: education and opportunity.
To Fry, the key to uplifting people is to give them greater access to education and more opportunities to use the skills they've learned. She also emphasized the need to educate people about the opportunities available to them.
Shiloh Ministry runs a program called Dream Builders that assists nonprofit organizations and shows them how to go after grant funding, donations and other resources.
"It's not about race," Fry said. "Our whole mission is to educate people from start to finish. So many of these organizations aren't even aware of the opportunities that are out there for them to connect with and take advantage of."
Fry highlighted Good360 itself as one of these opportunities. Many nonprofits have struggled to get in front of big brands in order to obtain in-kind donations. By registering with Good360, the process of acquiring donations becomes much easier.
"We've been able to build a rapport with Tyson, Pilgrim's Pride and Smithfield's to get food donations," Fry said. "But if it wasn't for Good360, we wouldn't be able to get other necessities like clothes and household products. I talk to a lot of nonprofits that have never heard of Good360, so there's more education to be done."
Good360 helps thousands of nonprofits and charities do more by giving them access to product donations from our network of corporate donors. In turn, these organizations serve vulnerable populations all across the country, including many communities of color. To get started with Good360 as a nonprofit, register here.