14 Dec

How Good360 Recommitted to Volunteerism This Year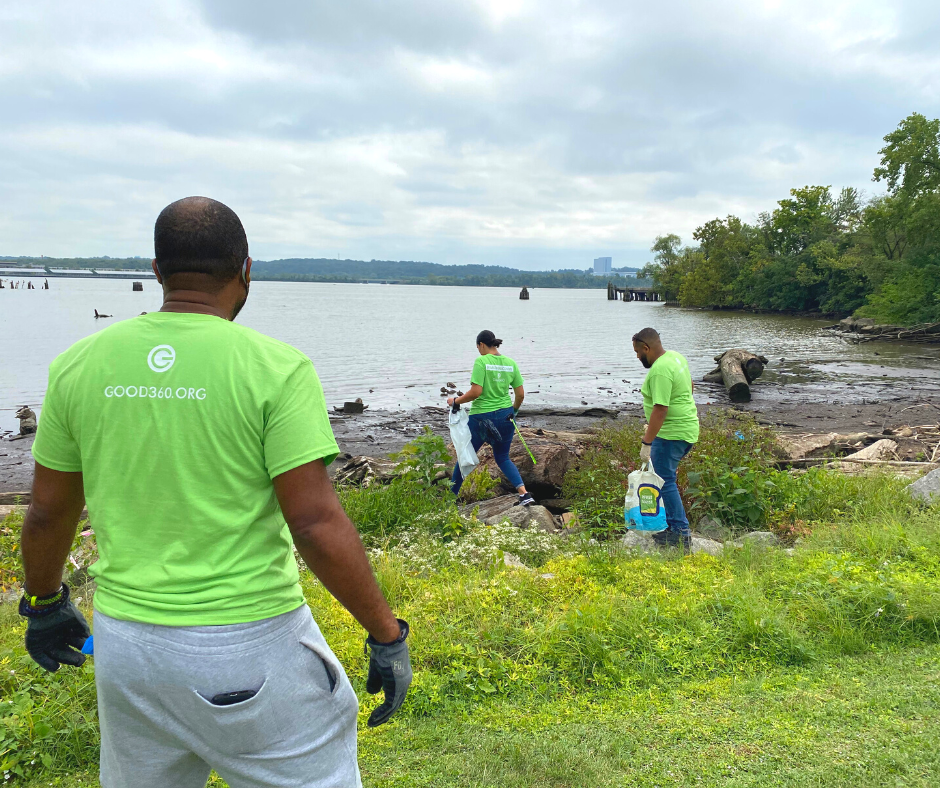 At Good360, we are big believers in the power of volunteering.
But the pandemic complicated volunteering initiatives for many companies and nonprofits, including ours. Now that we have settled into the new normal, these programs are coming back, and volunteering is as important as ever, if not more.
In collaboration with our corporate donors and nonprofit partners, Good360 has been reinvigorating our volunteering programs this year.
Research has consistently shown that employees are more satisfied and work harder when they are able to participate in meaningful volunteering opportunities at their company. But the key is ensuring that these events are purposeful, connected to company and employee values, and flexible enough to accommodate workers with busy schedules. That's one reason why employer-sponsored volunteering can be so effective. 
A study of corporate volunteering programs identified two major reasons why employees don't volunteer more: (1) logistical and/or scheduling conflicts; and (2) a feeling that programs reflected "pet projects of executives" and not causes that employees supported.
Good360 has been looked to as a partner for socially responsible companies to create opportunities that align with their philanthropic visions while meeting the needs of the communities their associates care about. For example:
Perhaps the largest effort in 2022, Good360 provided 30,000 bags to assemble by GAF associates, North America's largest roofing manufacturer, leading to the creation of hygiene kits benefitting disaster survivors throughout the country. 
In September, we partnered with United Airlines in support of the company's Month of Service campaign. Good360 created more than 2,500 hygiene kits by repurposing unused amenity kits that United hands out to premium customers. Containing a variety of personal hygiene products, these kits will help close the need gap for those struggling with homelessness in the Northern Virginia, DC, and Maryland area.
United employees and customers had a hand in putting together the kits, prompting one flier to say: "What a great way to give back while I wait for my flight!"
"I know the families and individuals in need will surely appreciate these kits," said Valerie Johnson, CEO of KEYS For the Homeless, one of the recipient organizations.
In honor of Veteran's Day this year, Good360 partnered with online car seller Edmunds to assemble 500 hygiene kits for the National Veterans Foundation.
Each kit included personal care items such as lotion, soap and toothpaste, which will help give an added sense of dignity to veterans served by the foundation.
The author of the above study, Jessica Rodell, suggested these best practices to ensure that you are creating volunteer programs that employees can get excited about:
Prioritize meaning: The best volunteer programs allow participants to see value and purpose in what they're doing, encourage a personal sense of control, and offer a sense of self-worth.
Balance bottom-up employee passion and top-down corporate structure: Allow corporate volunteering programs to grow from the ground up. Involve employees in the development of programs to avoid the sense that they are meant to support only executives' pet projects.
Involve other stakeholders: Foster a diversity of voices and engagement from across your company ecosystem. Include suppliers, board members, customers, and retired workers in the creation of volunteer programs. This will help create a sense of community and ownership across your organization.
Don't copy other programs: One common pitfall that many companies fall into is simply copying and pasting when it comes to their volunteer programs. Instead, you want your programs to be intimately connected to your brand, your company values, and what your employees say they value.
Lastly, you want to create a culture of volunteerism. Consistent reinforcement from company leaders is critical here—not just in words but action. At Good360, we not only encourage our employees to volunteer, we also provide VTO (volunteer time off) to give staffers the time during their workday to participate. About one in four U.S. companies offer VTO as a paid benefit. You could be a leader and improve recruitment and retention by offering VTO.
However your company chooses to engage in and encourage volunteerism, one thing is certain: thoughtful service benefits everyone involved.
If you are an HR or ESG leader and want to discuss volunteer opportunities in collaboration with Good360, please contact us.