17 Dec

How Good360 Partners with 2020 Citizens Awards Winners for Social Good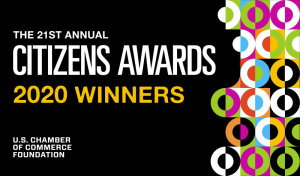 Each year, the U.S. Chamber of Commerce Foundation (UCCF) recognizes some of the most accomplished and innovative social impact initiatives spearheaded by the business community.
Since 2000, the Citizens Awards has honored the private sector's best efforts to raise the bar on social responsibility and improve communities around the world.
This year, the UCCF identified purpose-driven companies in eight categories "that have demonstrated extraordinary leadership in helping our communities grow stronger amid a global pandemic, economic downturn, and movement for racial equity."
"While the pandemic has exposed many of our vulnerabilities, it also showed the remarkable ability of business to adapt, pivot and act as a force for good — and that's what the Citizens Awards are about," said Marc DeCourcey, UCCF's senior vice president.
Good360 is thrilled to announce that among the eight 2020 Citizens Award winners, two of them were recognized for initiatives that were developed in close partnership with our organization: GAF and Advance Auto Parts. A third winner, UPS and the UPS Foundation, is one of our biggest corporate partners in disaster recovery.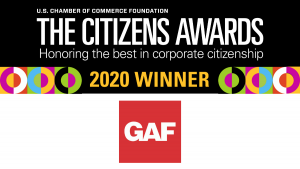 GAF won for Best Disaster Response and Community Resilience Program. A longtime Good360 partner, GAF is North America's largest roofing and waterproofing manufacturer (more homes and businesses are protected by a GAF roof than any other product). With its strong portfolio of roofing and home-building solutions, the company realized that it could take a lead role in setting a new bar for a smarter, more effective approach to long-term disaster recovery.
Beginning in 2017, GAF teamed up with Good360 to commit to supporting communities impacted by disasters and donating roofing materials to families that need to rebuild. GAF's goals are to accelerate recovery of impacted areas by providing donated goods at the time they are needed, eliminating waste, and helping build more resilient communities for the future.
In 2019, the partnership grew to include not only funding and in-kind donations, but also shipping, volunteerism, and warehousing. All together, GAF has worked with Good360 to donate $3.3 million in roofing products to vulnerable families in need, which included providing $1 million in shingles and roofing materials in support of long-term recovery work for survivors of Hurricanes Florence and Michael.
Thanks to the monetary and in-kind donations provided by GAF, more than 40 nonprofit organizations, 5,000 households and 20,000 lives have been directly impacted for the better.
"Working with nonprofits like Good360 through our new social impact initiative is critical to delivering meaningful support across the communities where we live and work, and beyond," said Andy Hilton, Chief Communications Officer and Head of CSR at GAF. "Good360 plays an important role in sourcing the right goods and products to the right places and people when they need them most."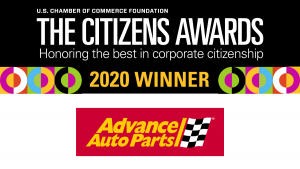 Along with GAF, Advance Auto Parts also won a 2020 Citizens Award, for Best Sustainability Program. 
Through its Driving Hope Program, Advance Auto Parts partners with Good360 to divert excess automotive products from landfills and waste facilities by donating them to automotive skills-building nonprofits and vocational programs. 
The Driving Hope Program is helping to alleviate the national shortage of auto repair specialists. According to the U.S. Bureau of Labor Statistics, some 46,000 automotive service technicians and mechanics will be needed to fill roles through the year 2026.
The Advance donations support 60 local nonprofits that provide educational training for aspiring mechanics, many of whom learn their trade by providing low-cost repair services to low-income community members. What's more, by keeping the donations local, Advance and Good360 reduced transportation costs, fuel usage and carbon emissions that would have resulted from hauling the goods longer distances to reach their final destinations. 
In 2019, Advance's donations increased by 42% compared to the year prior, equaling 1.3 million pounds of product. Since the program began, total donations have reached 1,700 tons — equal to more than 180 semi-trucks filled with parts and supplies.
The Burton Center for Arts and Technology (BCAT) in Salem, Virginia, recently received 27 pallets of donated supplies, including motor oil, anti-freeze, windshield washer fluid, wax and other car care items. These donations went to the BCAT Automotive Technology and Motor Sports programs, which provides students hands-on training in automotive repair to prepare for Automotive Service Excellence (ASE) certification testing. Students learn by working on repairs for low-income community members. 
When asked about the donations, BCAT's Instructor of Mechanics Steven Hoback had this to say: "This is thousands of dollars' worth of supplies and provides tremendous help to our students and programs. The contribution enables us to do what we do."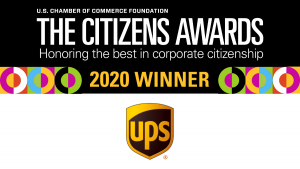 Lastly, Good360 would like to congratulate UPS and The UPS Foundation for its 2020 Citizens Award for Best Corporate Steward.
The UPS Foundation has allocated $3.2 million to fund organizations fighting racial injustice. In response to the COVID-19 crisis, UPS also directed $21 million to 300 relief agencies and distributed 10 million pieces of PPE worldwide. Many of these donations were done in partnership with Good360.
The Citizens Awards illustrate the power of collaboration and partnerships to advance social good. We are extremely proud to be partnering with some of the best companies in the world to help people in need.