17 Feb

How Good360 Is Growing Its Capacity to Do More Good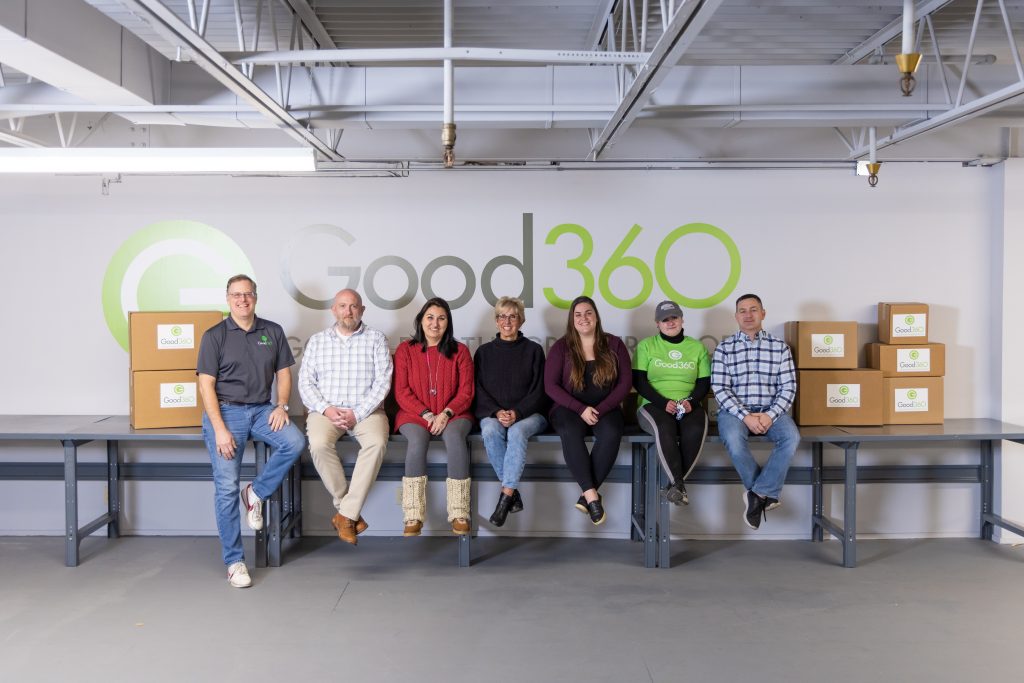 When the COVID-19 pandemic created an enormous spike in demand for product donations of all sorts, from personal protective equipment (PPE) to school supplies to clothing, Good360 was there to meet the moment.
While few could have predicted the severity and scale of the crisis, it arrived when Good360 was already well into a years-long effort to significantly increase our capacity to distribute donated goods throughout the U.S. and parts of the globe.
By an order of magnitude, we are moving more cartons, more pallets, and more truckloads of donated products compared to just a few years ago. In 2019, the fair market value of all goods we distributed equaled approximately $330 million. That's quite a lot of donations—and quite a lot of social good we're spreading.
In 2021, we managed to more than triple that number to cross the $1 billion mark for the first time. That followed an unusually busy year in 2020, when we responded to an unprecedented level of need at the height of the pandemic.
This increase in the volume of goods distributed was made possible by years of intentional investments to improve our logistics capabilities, strengthen our corporate and nonprofit partnerships, and add new staff. 
Whenever we can move more goods more efficiently, that really means we're growing our overall impact—the degree to which we're helping corporate donors and nonprofits alike to serve communities in need everywhere.
Beefing up our logistics and warehousing capacity
Over the past several years, Good360 has made major improvements in our supply chain by greatly expanding our use of third-party logistics (3PL) companies. These partnerships have allowed us to upgrade our ability to process, sort, and grade truckloads of donations down into pallets and cartons.

By providing targeted product in smaller quantities, Good360 is able to drive more value for our nonprofit partners because they can more easily access our donations even if they don't have a warehouse or excess manpower to break down pallets.
Located in Scottsville, Kentucky, and Gallatin, Tennessee, our 3PL partners have led to a big increase in the number of bulk pallets that we are delivering via LTL shipping. LTL stands for "less than truckload" and is the industry term for when a shipment requires less than a full semi-truck to transport. LTL shipping is important for our nonprofit members because it allows them to take advantage of our bulk donations program, which are ordered by the pallet.
In 2019, we moved 325 pallets via LTL. By the end of 2021, that number jumped to 4,186. This means we're getting many more nonprofit organizations access to bulk donations, including pallets from Amazon. Members can see what bulk donations are currently available by going to our online catalog.
Additionally, expanding our warehouse space and staff in our Good360 Omaha warehouse has helped fuel an increase in the number of donated cartons moved, almost doubling from 23,864 in 2019 to 51,960 in 2021. Cartons are the ideal size for smaller nonprofits who are not able to take delivery of pallets or truckloads of product.
We have also made technology upgrades at our national warehouse in Omaha, Neb., where much of our product intake, sorting and shipping is centralized. And we've made upgrades to our online catalog to make it easier for nonprofit members to see what's available in our inventory, get immediate quotes on shipping costs, and track their orders.
Deepening our relationships with corporate and nonprofit partners
Technology isn't the only way we have increased our organizational capacity. We've also done it by establishing more and deeper partnerships with our corporate and nonprofit network. 
For example, we have turned to a few of our most reliable and capable Community Redistribution Partners (CRPs) and asked them to operate at an even higher level to help us process more truckloads of donated product. These CRPs are now known as Regional Operating Centers, or ROCs.
The ROCs help to steady the supply chain for our nonprofit members. They serve as "capture zones" to absorb any shocks in supply, creating a more predictable and consistent stream of donations during peak and low-volume periods. They also allow us to take advantage of proximity to corporate donors (for example, being situated near Amazon warehouses).
Read our blog post to learn more about how these ROCs help Good360 increase our impact.
We also established a partnership with USA for UNHCR, the UN refugee agency, to jointly distribute critically needed clothing to refugees and displaced people around the world. The partnership leverages our humanitarian supply chain as well as USA for UNHCR's international rapid response capacity.
In 2020, we shipped 43, 40-foot ocean containers of product overseas. In 2021, we increased this number to 75 containers shipped. Destinations included Armenia, Lebanon, Burkina Faso, Ethiopia, South Sudan and Uganda.
Our corporate development team has been actively creating relationships with existing and new donors. For example, we've broadened our partnerships with Advance Auto Parts, Walmart, Amazon, Nike and GAP.
Lastly, our nonprofit network crossed 100,000 organizations for the first time in 2021. This network growth gives us—and our corporate donors—more opportunities to find the best nonprofit partners for donated product.
More capacity = bigger impact, greater resilience
By improving our capacity, we are able to drive more social good—more donations for our nonprofit network, more impact for our corporate donors, and more help for communities in need.
Greater capacity also means we are improving our resilience and ability to withstand sudden surges in demand in the face of another unexpected event like the pandemic. As the frequency and severity of natural disasters increases, improved capacity also sets us up to respond faster and more effectively to help more people impacted by disaster.