27 Mar

Hit by Tornadoes, Then Coronavirus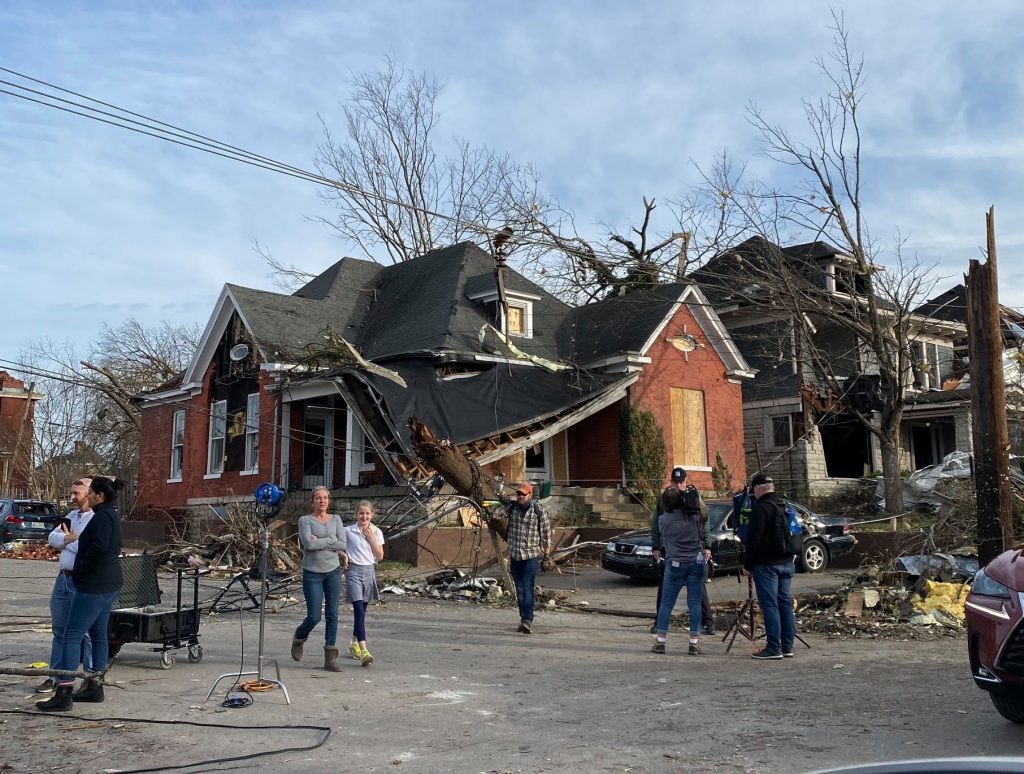 In the predawn darkness of March 3, 2020, several tornadoes swept through central Tennessee, leaving thousands of homes damaged or destroyed, and 25 people dead. Among the victims were at least five children under the age of 13.
Even for a region that's no stranger to tornadoes, this was an unusual degree of destruction. But the misery didn't end there.
Just two days later, even as survivors were picking through piles of debris and shelters were crammed with displaced families, the first confirmed case of coronavirus surfaced in the devastated area. Authorities said a 44-year-old man in Williamson County, just southeast of Nashville, was diagnosed with COVID-19.
By March 27, the Tennessee Department of Health had confirmed almost 1,000 cases of COVID-19 in the state, and reported three deaths.
Across the tornado-ravaged region, the rapid spread of the disease has emptied out restaurants, bars, theaters and other public gathering spots. People are staying in, hoping to avoid getting sick or getting others sick. Businesses are struggling to survive with a trickle of customers. 
Some businesses that managed to reopen after the tornadoes struck were only forced to close again in the wake of the pandemic.
Against the backdrop of these simultaneous disasters, Good360 has been working with our corporate partners to bring in supplies that are critically needed for the region's recovery.  To date, we have provided nearly $430,000 worth of products to nonprofit organizations that are assisting tornado survivors in central Tennessee.
These products include personal hygiene items, diapers, tents, blankets, towels, pillows, shingles from GAF and furniture. Along with GAF, other companies that have pledged to support relief efforts in Tennessee include Crate & Barrel, CarMax and The UPS Foundation.
The products have benefited impacted individuals in the Nashville area through Good360's relationship with local nonprofits.  One such partner, The Goodness Project, operates an extensive disaster relief program that is able to respond quickly and significantly to a major disaster anywhere in the country. Like Good360, the organization provides assistance throughout the lifecycle of a disaster, from the immediate needs of survivors through the long-term recovery.
As it happens, The Goodness Project maintains its national distribution center for disaster relief in Nashville. So, the nonprofit was well positioned to help families who are reeling from both the tornadoes and the pandemic.
Additionally, Good360 was able to support House of Praise and Worship by providing bottles of Coca Cola's Powerade and cleaning supplies to assist with the cleanup of the region. House of Praise and Worship is working with the Hermitage Community Center, which was established as a disaster recovery center for the area. 
There is still a great need for product donations to help impacted communities in central Tennessee. These items include:
Personal care products

Wipes

Hand sanitizer

Heavy-duty boots

Gloves

Eye protection

Tyvek suits

Dust masks

Surface cleaners

Mops/brooms

Large trash bags

Socks

Undergarments

Flashlights

First aid kits

Diapers

Tarps
If you are a company that can provide assistance, please reach out to Jim Alvey (jalvey@good360.org) at Good360.