10 Dec

Good360 Teams Up with Nike to Help 'Healthcare Athletes'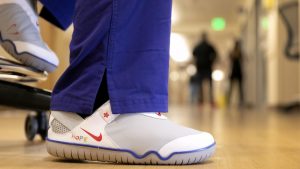 Nowhere is the fight against the coronavirus pandemic more dangerous and draining, emotionally and physically, than in the hospitals where millions of healthcare workers are treating patients.
The nurses and doctors caring for these COVID patients endure countless hours working on their feet while facing the constant risk of getting infected themselves. Nike also recognizes the physical and mental resilience of healthcare athletes.
These heroic efforts on the frontlines of the pandemic deserve as much support as we can give them. That's why Good360 teamed up with Nike to distribute nearly 30,000 pairs of the Nike Air Zoom Pulse, a shoe developed and tested specifically with healthcare workers in mind, to thank frontline healthcare workers.
Released in November 2019, the Air Zoom Pulse is Nike's first shoe created for the healthcare industry. Fit, cushioning and traction systems work together to secure the foot in hospital conditions. 
The Air Zoom Pulse was developed in partnership with medical workers at Oregon Health and Science University (OHSU) and Doernbecher Children's Hospital in Portland, Ore. (The shoe is currently sold out and Nike donated all available inventory in 2020.)
Good360 distributed the shoes to healthcare centers and hospitals in Chicago, Los Angeles, Memphis and New York City. Additionally, 5,000 pairs were given to military healthcare workers at the Veterans Health Administration. We also delivered about 95,000 pairs of Nike soccer socks that offer mild compression to healthcare workers in Los Angeles and New York City. 
"Nike believes healthcare workers are athletes and heroes in their own right," said Michael Price, Good360's Director of Corporate Partnerships and Relations. "We couldn't agree more and we're thrilled to be partnering with Nike to support the people working tirelessly on the frontlines of this pandemic. It's also a testament to Good360's long-standing relationship with Nike that we were able to collaborate and efficiently deliver COVID relief where it's needed most."
Nike's executives, employees, the Nike Foundation and Nike have committed more than $25 million to COVID-related efforts.
Meanwhile, Good360 has distributed at least $225million in donated products for COVID relief since March. With a new wave of infections spreading across the country this winter, we will be working with generous partners to do even more.
To help us assist more families and healthcare workers impacted by the pandemic, please consider making a product donation here.