12 Nov

Good360 Steps in to Help Food Pantries as Demand for Donations Surges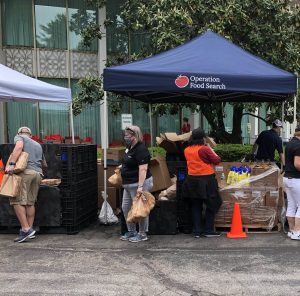 All across America, food pantries fill a critical need — helping to keep families and children from going hungry as millions deal with food insecurity every day.
The need has always been there, but the pandemic has made it exponentially worse. During this unprecedented time, millions of additional Americans have flooded food pantries seeking help. They're waiting in miles-long car lines and straining a charitable system that wasn't designed to handle a national crisis of this magnitude.
According to a report by Feeding America, at least 17.1 million additional people could find themselves without enough food as the virus spreads.
"Very early on, we started noticing that there were new faces showing up in need of food," Feeding America CEO Claire Babineaux-Fontenot told the Washington Post. "Forty percent of the people turning to us for help had never before turned to the charitable food system for help."
But families who rely on food pantries to get by often need more than just canned goods. They're looking for other necessities such as diapers, wipes, feminine products, warm clothes, socks and shoes. When putting food on the table is already a struggle, many of these items that other people take for granted become negotiable.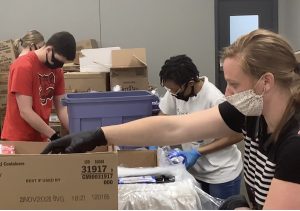 Imagine this scenario: You've been laid off because of the pandemic. Fortunately, you have a shot at a new job. You're being called in for an interview. But you can't afford to buy new clothes, a decent pair of shoes, or even shampoo or deodorant so you get clean and be presentable.
This is the reality of many people living in or on the edge of poverty. That's why Good360 has been working closely with food banks to give them more access to product donations so they can expand their offerings beyond pantry staples.
One such organization is Operation Food Search, which is dedicated to ending hunger in the greater St. Louis metropolitan area. It's the largest distributor of free food in the bi-state region. The nonprofit distributes more than $30 million worth of food and household essentials annually to 330 community partner agencies, which in turn, feed 200,000 people in need each month.
For years, Operation Food Search has been operating as a Good360 Community Redistribution Partner, or CRP. Under this regional hub model, the nonprofit distributes many of the products that Good360 receives from our corporate donors.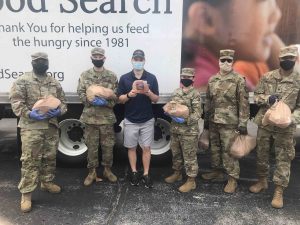 Because Operation Food Search works mostly with food pantries, the organization is able to get our products directly into the hands of people who are also seeking donations of food.
"Right now, the need overall in the population is skyrocketing," said Jack Baran, Food Donations Relationship Manager at Operation Food Search. "And they don't just need food. They need personal hygiene products, blankets, bedding, masks, winter clothes, socks, toothpaste and shampoo. When a family is dealing with food insecurity, there's a good chance that they're having trouble getting a lot of other things that they need to survive and thrive."
By partnering with Good360, Baran said, Operation Food Search is able to give its member agencies access to products that round out their regular donations of food. For example, Good360 was able to provide Operation Food Search with a half-million reusable cloth masks recently.
As a member of the St. Louis Metropolitan Pandemic Task Force, Operation Food Search has seen up close how the COVID crisis is intersecting with food insecurity for many families.
In this time of surging need, food pantries and food banks can consider adding some of these products to their donation mix: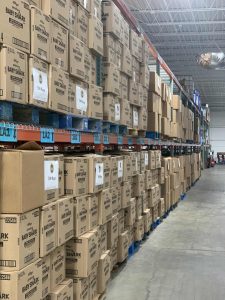 Diapers and feminine hygiene products: Any parent of young children will tell you that diapers are a big expense. So are feminine products. Good360 has relationships with large retailers that are able to donate diapers and other family care products.
Apparel: Good360's donors are able to provide all kinds of clothing necessities for families, including jackets, sweaters, socks, shoes, gloves and athletic wear. With winter approaching, the demand for seasonally appropriate apparel will ramp up quickly.
Personal hygiene products: The need for these items, including shampoo, conditioner, body soap, toothpaste, toothbrushes, and deodorant, is perennial but may be even more in demand during the pandemic.
School and office supplies: With many schools still out and students forced to do distance-learning, many families are in need of school supplies such as construction paper, printer paper and notebooks. Meanwhile, adults who are working from home may also be in need of office supplies.
Toys and games: Toys are in demand year-round, but are especially sought after as the holidays approach. This year we will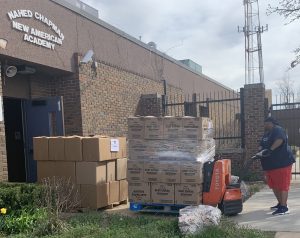 see more families struggling to give their children gifts.
COVID-related PPE: Masks are a necessity these days. Families may also appreciate donations of hand sanitizer, gloves and wipes.
If you represent a food pantry or food bank that is not already registered with Good360, join for free and see how we can help you do more to help your community.