09 Jan

Good360 Prepares for 2020: An Inflection Point for Growth

As a new decade dawns begins, Good360 is looking ahead with ambitious plans to improve the way we operate so we can make it even easier for corporations to donate while empowering nonprofits to make a bigger impact.

Fortunately, we're diving into the new year on the heels of a very impactful 2019. This past year, we were able to expand our reach and grow our Circle of Good network, all while distributing more than $330 million in critically needed goods. That translates to more than 1,200 full truckloads of donations, 32,000 cartons, and more than 1,500 pallets of product shipped directly to nonprofits. 

We grew our network of nonprofits to more than 90,000 organizations and ended the year with 246 corporate donors. We were also active in recovery efforts for 19 disasters, partnering with 165 nonprofits in the process.

Although each year brings new challenges, our mission remains the same: to transform lives by providing hope, dignity, and a sense of renewed possibility to individuals, families, and communities impacted by disasters or other challenging life circumstances who, without us, would struggle to find that hope.

This steadfast focus on transforming lives leads us to continually challenge the status quo — How can we get even better at what we do so we can grow our organization and increase our overall impact? How can we bring more value to our corporate donors? How can we help our nonprofits deliver better on their missions to serve vulnerable communities?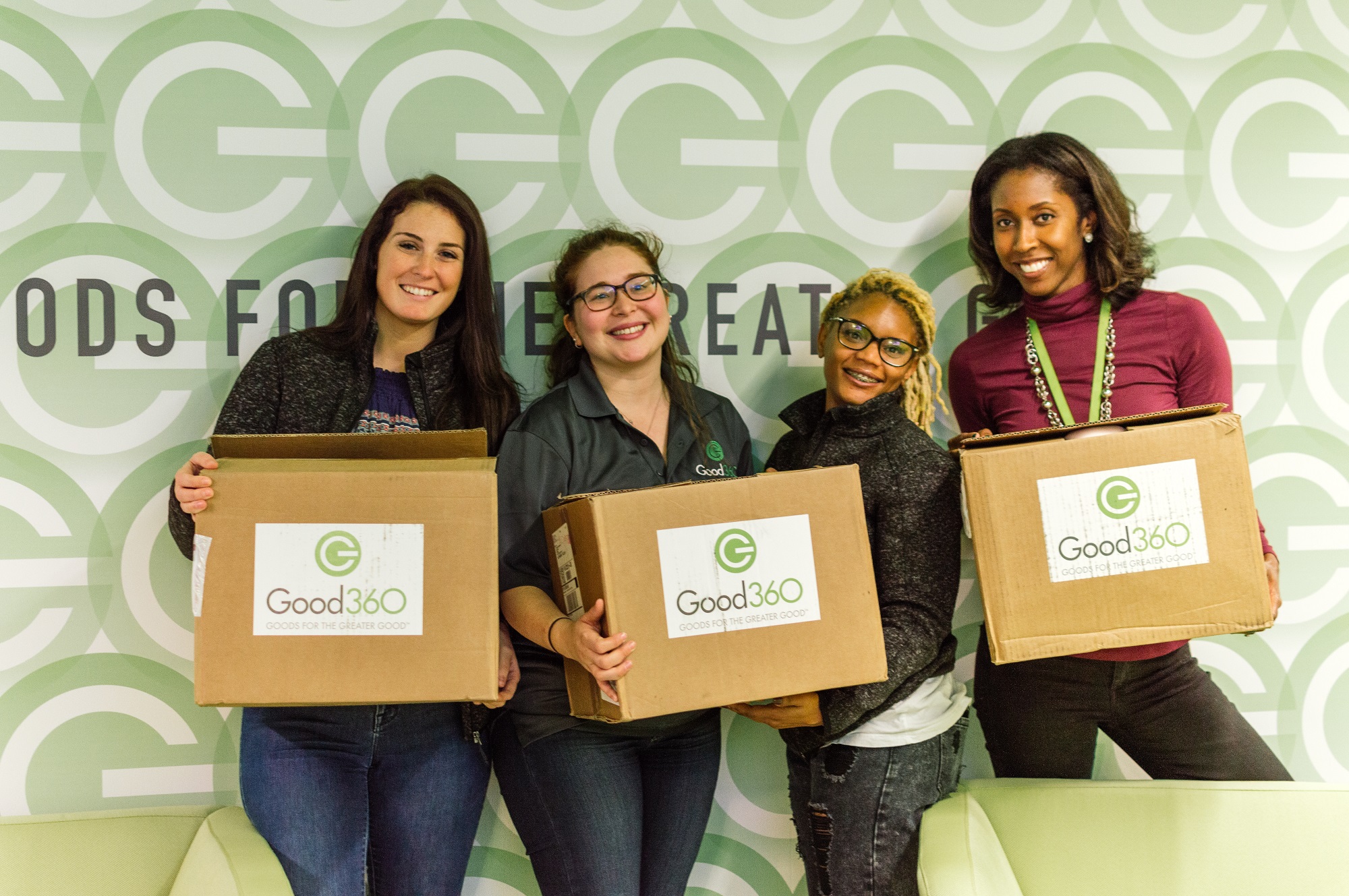 An exciting year ahead
While we're constantly asking ourselves these questions, we're planning for a particularly active year as we approach the important milestone of $10 billion in goods distributed over our 37-year history.
"2020 will be a transformative year for Good360 as we make significant investments in our network to improve our distribution efficiencies," said Good360 CEO Matt Connelly, who assumed his new role just this past August. "The investments in technology and donation processing capabilities such as our new Regional Operating Centers will increase the value and impact of the donated product we distribute. As we enter the new decade, Good360 is committed to providing best-in-class operating solutions to our donor partners for their donated goods."
These investments will allow us to respond more nimbly to changes happening in global supply chains, corporate philanthropy, and disaster response — all areas that affect the impact we can make on communities in need. These mega-trends include:
The rise of reverse logistics as a sophisticated function within companies

The explosion in ecommerce and a larger universe of customer returns

A movement by corporations to be more purpose-driven and strategic in their giving

Nonprofits becoming more innovative and sophisticated in their business models

An increase in the frequency and intensity of natural disasters around the world 
As we look to improve our operations in 2020, we'll be focusing on a few key priorities.
Deliver exceptional value and service to our nonprofit members
We'll continue to source high-quality, high-need goods while also looking for ways to increase our efficiency and keep expenses in check. Because of our unique model of bringing donations directly to nonprofits, we take on significant hard costs. Anything we can do to minimize these costs means we can do more to help our nonprofit members devote more dollars to direct programming.
We continue to expand our relationships with our donors to source product as effectively and efficiently as possible, and to offer access to those goods in a variety of ways.  This year, we'll also focus on adding even more ways to provide high-value goods to our members, in addition to our standard donated goods. 
We'll also look to expand our current nonprofit programs (including our new Regional Operating Centers and Community Redistribution Centers), as well as introduce Good360 to more organizations.
Deliver enhanced value and service to our corporate donors
We'll keep looking for innovative solutions and approaches for not only the distribution of the donated goods, but also in helping our donors tell their stories both internally and externally.
We'll also seek new ways to help companies deliver on their commitments to be more purpose-driven as "doing good" becomes mission-critical for many corporations. For example, we can provide opportunities to engage employees better through company giving programs.
These mission-driven businesses also understand that donating goods and extending their lives has a societal and environmental benefit, so we want to promote good corporate citizenship across many facets.
Build awareness of our collective work and impact 
Even though Good360 distributed some $330 million in critically needed goods last year, there are still many more organizations we can help. As such, we want to focus on strategies to raise awareness of our unique model of connecting nonprofits with corporate donors directly through product donations.
We'll continue to grow and expand our storytelling capacity and capabilities, and identify ways to share what Good360, our donors, and our nonprofits are doing every day to help people in need.
Operational excellence in everything we do 
We will continue to provide an array of solutions to deliver the right goods to the right people at the right time — from a single carton of shampoo to an entire truckload of roofing materials, and everything in between. 
We'll seek out innovative ways to continue serving the needs of a diverse base of nonprofit members. We also remain committed to long-term disaster recovery as there are still gaps that only cross-sector collaboration can help address.
In 2020, we'll focus on improving key processes, investing in technology and platforms, and looking for operational savings we can pass along to our nonprofit members.
Investing in our people
None of these plans can happen without the dedication and hard work of the people who come to work every day at Good360. This year, we're making some changes to better align our talent with our priorities.
We have added 3 new members to our executive team (all promoted from within Good360), now called the "Management Council". The team is now comprised of:
Matt Connelly – Chief Executive Officer

Richard Barney – Chief Operating Officer

Shari – Chief Development Officer & Chief Marketing Officer

Mike Avis – Chief Financial Officer & EVP Strategy

New – Jonathon Cannon – Senior Vice President of Nonprofit Development

New – Stephane Moulec – Vice President of Information Technology

New – Lenore Freeman – Vice President of Compliance & Administration
Challenging the status quo while keeping to our mission
As we look forward to this milestone year, we're ready to meet new challenges on the horizon knowing that they will require new thinking and innovative strategies. At the same time, our north star remains our mission to transform lives through product philanthropy.
"Although Good360 is excited about surpassing the $10 billion of donated product threshold, we are also constructively dissatisfied as we enter the new decade," Connelly said. "We are committed to creating the premier distribution channel connecting those that have goods to give to those in need."
Join our Circle of Good!
Looking to become a Good360 member? All 501(3)(c) nonprofits or charities can register to become a member for free here.
If your company is interested in doing good by distributing highly needed product donations to people facing challenging life circumstances can learn more about donating today here.