13 Jun

Good360 Moves Resilient Response Campaign Forward at Houston Forum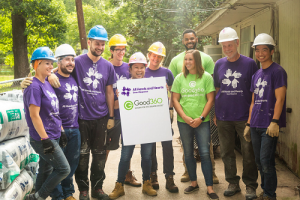 In September, 2018, Good360 launched the Resilient Response campaign in collaboration with All Hands and Hearts. We created the campaign for a simple reason: Disaster giving around the globe is broken.
Some 60 percent of unsolicited goods donated after a disaster ends up in landfills (or otherwise goes unused), according to data from the National Science Foundation and the Conrad N. Hilton Foundation. What's more, 70 percent of giving occurs within the first two months — only 5 percent of giving is ever allocated to long-term reconstruction and recovery. To create more resilient communities able to withstand the next disaster we need to shift this uneven paradigm.
The Resilient Response campaign centers on a six-point pledge that gives corporations a framework for embracing a more purposeful approach to disaster giving, one that gives equal weight to long-term disaster recovery and preparedness along with immediate relief efforts.
On June 27, we are organizing the first Resilient Response Forum in Houston to assess the state of the disaster giving, share best practices, and develop a version of the pledge specifically for nonprofit organizations.
The good news is that the campaign has been very well received by corporations and donors of all sizes. Among the list of forward-thinking companies that have committed to the Resilient Response pledge are some of the best-known businesses in America, including United Airlines, Airbnb, Mattel, CVS, UPS, Hasbro, Wrangler, Ecolab, and Dow Chemical.
In Houston, we are gathering representatives from many of these companies, as well as disaster recovery leaders from across the private, public and nonprofit sectors.
David Campbell, the founder and chairman of All Hands and Hearts, will speak about what's needed to change the current disaster giving model: proactive planning, needs-based response and a focus on long-term recovery. Participants at the forum will then share successes—and barriers—that they've experienced while implementing these ideas.
A major goal of the conference is to identify concrete steps to overcome common challenges to resilient response. In small group sessions, participants will have an opportunity to tackle specific barriers and brainstorm ideas for solutions.
Tiffany Everett and Cacique Rich-Martinez from Good360, and Ashley Saulcy from All Hands and Hearts will also hold a panel discussion exploring how their respective organizations responded initially to Hurricane Harvey and how that response has changed over the past two  years.When we launched the Resilient Response campaign, our primary focus was to encourage the private sector to sign on to the pledge. Clearly, corporations have an increasingly outsized role to play in disaster response. It's no longer sufficient for them to simply write a check or send leftover inventory. Stronger storms are resulting in greater levels of destruction, forcing governments to lean more on private enterprise for humanitarian assistance.
However, we also found that many nonprofit organizations were keenly interested in supporting resilient response. That makes a lot of sense because nonprofits are often the first to respond to a disaster and the last to leave, and in sync with the needs of affected communities on the ground. Corporations and individuals can donate in the most pledge-aligned way, but if the recipient nonprofit doesn't use the donation appropriately, the system of giving is still broken.
As a result, we will be using the forum in Texas as an opportunity to develop a version of the Resilient Response pledge specifically focused on the role of nonprofit organizations.
The campaign launched in 2018. That year, the U.S. experienced one of the most active years for billion-dollar disaster events (the 4th highest total number of events), according to the National Centers for Environmental Information (NCEI), the nation's scorekeeper in terms of addressing severe weather and climate events. These large-scale disaster include the historic wildfires in California, Hurricane Michael, and Hurricane Florence.
The frequency and severity of these disasters, all occurring in a single year, underscores the critical importance of addressing shortfalls in disaster giving. We can't afford to waste any more time or resources. We can and must develop a more thoughtful approach to disaster response.