29 Dec

Good360 and Alianza de Futbol Team Up to Help 48,000 Lives Hurt by COVID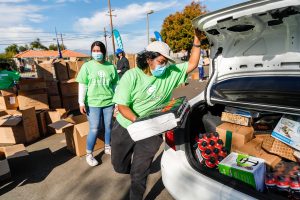 For nearly 20 years, an organization called Alianza de Futbol has sought to give more opportunities to lower-income Hispanic families through the sport of soccer.
Alianza aims to "level the field of dreams" by sponsoring soccer events, scholarships and coaching. Each year, the group organizes a 10-city tour to bring soccer events to Hispanic communities around the U.S. 
That is, until the pandemic made it impossible to do the traditional tour this year. So Alianza got creative and turned its annual tour into a 10-city COVID-19 relief effort. Along with other sponsors, the organization partnered with Good360 to put on drive-through events from coast to coast where thousands of families received donations of food, clothing, household goods and other essentials. 
At each event, Good360 and Alianza distributed more than 10,000 household items, including personal hygiene products, masks, apparel, diapers and toys. All together, with the help of our generous corporate sponsors, Good360 gave away approximately 110,000 products with a retail value of nearly $2.3 million in partnership with Alianza.
Dubbed Alianza Contigo ("with you" in Spanish), the tour brought much-needed relief to families struggling under the economic devastation of the pandemic.
"Before we knew it, the world was stopped by a pandemic, a dangerous infectious disease was dribbling us all, putting our lives, economies, jobs and dreams on standby," the organization said in its final impact report. "We were raised to never give up, running the last mile, fighting the last ball, playing our game with all we've got and this was not going to be the exception, so we created Alianza Contigo."
All in, the reimagined tour, which took place from September to December and visited large metro areas such as New York, Chicago, Houston and Los Angeles, touched many lives: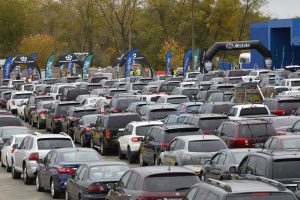 More than 9,700 families representing more than 48,000 people received help

A host of sponsors, including Good360, provided more than $3.5 million in in-kind support

More than 1.1 million household items and 3.1 million food items were distributed at mostly contactless drive-through events

More than 830 volunteers gave their time to make the events a big success
The Alianza Contigo Tour also generated a significant amount of media coverage on local TV, radio and social media, bringing attention to a vulnerable population that has seen an unfair share of COVID suffering. While more "essential workers" tend to be Latino or Black, they're also experiencing greater rates of severe illness or death compared to other groups.
The COVID-19 economic repercussions have hurt U.S. Latinos more than any other group, according to a recent
 Pew Research study.
In response to this unprecedented health crisis, Good360 has experienced the busiest year in our organization's history. We have activated our vast network of corporate donors and nonprofit organizations to distribute more than $250 million worth of critically needed goods to families hit hard by COVID.
If you are in a position to contribute to our ongoing relief efforts, please visit our Giving Page to find out ways you can help: https://good360.org/ways-to-give/.