01 Jun

Emotional Recovery Is Disaster Recovery: How Good360 Collaborates to Meet the Mental Health Needs of Hard-Hit Communities
In the aftermath of a major disaster such as a hurricane, tornado, flood, or fire, much of the focus is on rebuilding roads, homes, and businesses. It's images of people surveying the physical wreckage and digging debris out of their houses that dominate TV news reports. What often goes unseen and unreported is the lasting mental and emotional wreckage that a large-scale disaster can leave behind. Six months after Hurricane Sandy slammed New York and New Jersey, a telephone survey found that 14.5% of adult residents were identified as suffering from post-traumatic stress syndrome (PTSD) and 6% suffered from major depression. In another example, a Princeton University study of low-income mothers in the New Orleans area found that 33% still suffered from disaster-related PTSD and 30% reported psychological distress nearly five years after Hurricane Katrina struck the city. Incidences of both conditions still weren't back to pre-hurricane levels seven years later, the study found. Even exposure to the suffering of victims can trigger what psychologists call "secondary traumatization" among those who are not directly affected by disasters. It's the trauma after the storm that gets forgotten.
Given the prevalence and persistence of post-disaster mental health issues, at Good360, we think beyond fulfilling the basic necessities of impacted
communities (clothing, personal care products, cleaning supplies, rebuild materials, etc). We believe thoughtful giving during times of disasters should also  extend to the emotional, psychological, and even spiritual needs of affected populations. We can contribute to the rebuilding of resilient communities by addressing some of these less obvious, but equally important, needs. To that extent, we are continually collaborating with our corporate and nonprofit partners to come up with creative solutions. In the most recent example, we worked closely with Sonos, RH (Restoration Hardware) and Hasbro to support children and teens in Santa Barbara County who faced the worst forest fire ever recorded in California in late 2017 — followed by lethal mudslides that killed 20 people and displaced hundreds of families in early 2018. Among the dead were two students from Cold Spring School in Montecito, an unincorporated area of Santa Barbara County.
The tragedy hit close to home for Sonos, which is based in Santa Barbara. Good360 reached out to them and RH to find a way to create "safe spaces" for school children to seek counseling while dealing with the traumatic effects of the fires and mudslides. We came up with the idea of retrofitting school counseling rooms that were already helping students cope with the disasters, and identified three area schools that could benefit, including Cold Spring School. The other schools were Carpinteria Middle School and Carpinteria High School. While the campuses themselves were not damaged in the fires or flooding, the schools were closed for more than a month as a result of the massive Thomas Fire and the subsequent mudslides. The trauma of watching these disasters unfold, needing to evacuate, and learning about the fatalities affected just about every student and family in this small, close-knit community. Children and young adults are especially vulnerable in disaster. They may lack the emotional maturity to understand or deal with traumatic events, and their emotional welfare isn't always top of mind when catastrophe strikes.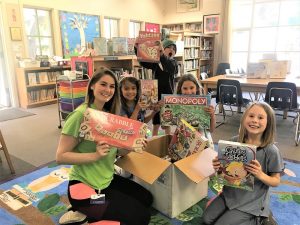 "Whereas an adult hopefully has the cognitive ability to understand the traumatic event in the context of geographical causation, children often ascribe personal meaning to events which they struggle to comprehend," said clinical psychologist Anna Harwood, writing in The Scientific American. "Children often see traumatic events as punishment for misbehavior, ascribe unrelated causality, have difficulty discussing the event because of limited language skills, and have poorer abstract reasoning skills which impacts their comprehension." At the schools in Montecito and Carpinteria, we completely retrofitted three counseling rooms with the help of RH, which replaced the outdated furniture with new chairs, desks, couches, loungers, rugs and bookshelves to make the spaces much more comfortable. Sonos donated some of its high-end wireless speakers. Hasbro provided dozens of its classic board games such as Connect Four and Sorry, which help to break the barriers around tough conversations on the traumatic experiences faced by the children.
The renovated rooms gave students a soothing place to meet with counselors, talk through their feelings, and just relax. "Cold Spring School is grateful to Sonos and RH for the upgrades they made to our counseling room through a furniture donation and sound system," said Cold Spring School District Superintendent Amy Alzina. "The students and staff enjoy having a beautiful, relaxing place to come to when in need of support." Our collaboration with Sonos, RH, and Hasbro is just one example of how we continue to look for creative ways to support the long-term recovery of disaster-hit communities, whether those critical needs are physical or emotional.