14 Apr

Earth Day 2022: How Good360 Partners with Corporate Donors to Maximize Sustainability Gains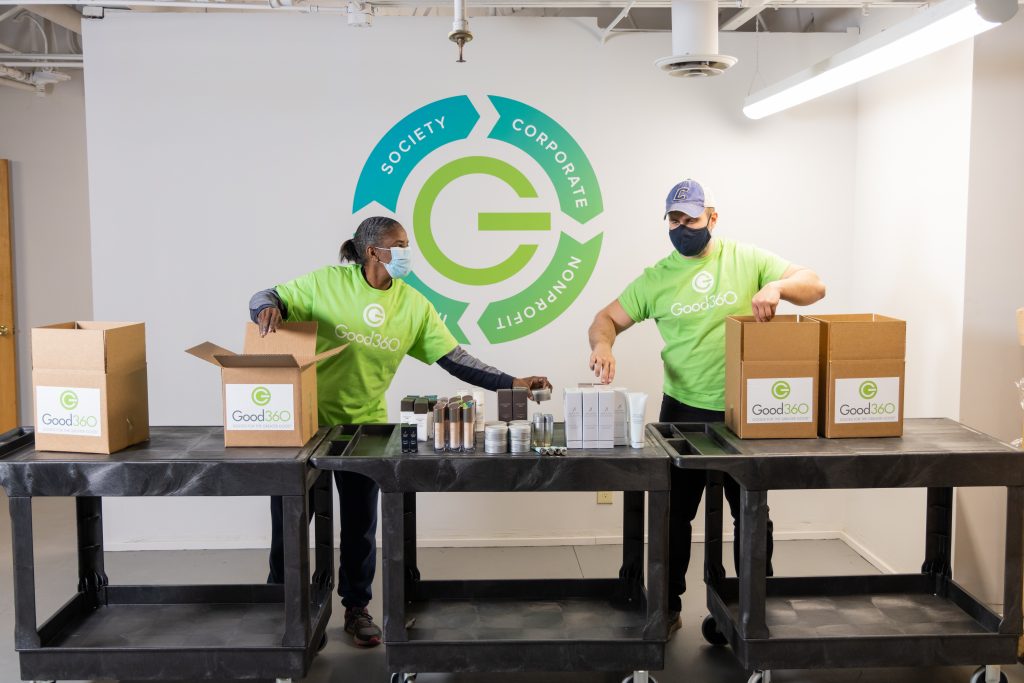 Corporations have a lot to lose with climate change.
According to the 2020 CDP Global Supply Chain Report, companies could face up to $1.26 trillion in environmental risks to their supply chains by 2026. Meanwhile, up to 80% of the world's largest companies say they are exposed to physical or market transition risks related to climate change, according to S&P Global Market Intelligence.
Just like the rest of the world, corporations cannot afford to ignore the growing impact of climate change. It also makes a lot of business sense for companies to focus on sustainability. According to McKinsey, companies that are sustainability leaders consistently outperform the market in both the medium and long term.
As we mark Earth Day this month, it's a good opportunity to consider how Good360 can collaborate with companies to meet their sustainability goals and be more prepared for a world where climate change will create greater and greater business risk.
Helping companies move from CSR to ESG
Corporations are increasingly focusing on Environmental, Social, and Governance (ESG) goals in place of corporate social responsibility (CSR). That's because an ESG approach relies on specific data to quantify the impact of a company's social and environmental practices, and attempts to connect them to a firm's core business. 
In other words, ESG goals keep companies more accountable for making measurable progress, and helps to prevent PR-driven "greenwashing" when it comes to sustainability.
By partnering with Good360, we can help corporations directly achieve their ESG milestones, including:
Reducing waste in their supply chains

Making their

reverse logistics

(customer returns) more efficient

Keeping employees more engaged

Creating more

resilient communities

Improving sustainability in the face of climate change

Being more efficient with resources overall

Practicing more transparent and ethical leadership
To see specific examples of how Good360 has partnered with some of our biggest corporate donors on ESG initiatives, please read this blog post.
Making product philanthropy into a sustainable practice
Product donations can be an excellent way for companies to benefit the triple bottom line: people, planet, and profits.
With an in-kind donation program, companies can ensure that they are making the best use of inventory that cannot be sold for a variety of reasons (customer returns, out-of-season items, dead stock, etc.). Our donation programs prevent unsold product from getting tossed out or destroyed. In 2021, we diverted more than 100 million pounds of needed goods from landfills.
Our Retail Matching Program, in particular, drives a lot of sustainability benefits because we have created a seamless process for local nonprofits to pick up donations directly from retail outlets in their area. This means extra resources are not being spent to gather and ship these items all around the country, reducing waste and increasing efficiency.
At the same time, we make it easy for corporate donors to assist communities in need through our network of more than 100,000 nonprofit organizations—all prequalified and ready to accept donations. Good360 coordinates the entire process of collecting and distributing the goods so donors only need to have a single point of contact.
By instituting a regular program of product donations, we help companies cut waste, benefit people in need, and improve their brand reputations through philanthropy. It's a win-win-win.
Helping to solve the growing problem of reverse logistics
Online shopping is convenient for many consumers, but it has helped to fuel a massive sustainability issue in the form of customer returns. (In the retail industry, the process of enabling customer returns is known as "reverse logistics.")
The Reverse Logistics Association estimates that customer returns will reach $1 trillion in merchandise by 2027. The problem for retailers is that many of these returns cannot be resold, so there is the potential for a huge amount of waste in the system. Plus, every return increases the carbon footprint by requiring more packaging and energy expenditure.
Good360 can help companies create a more efficient and sustainable process for reverse logistics by diverting customer returns to our nonprofit partners. Our donation programs allow corporations to drive more value out of their reverse logistics, while helping communities of all kinds to thrive.
See how we can help your business become more sustainable
The theme for this year's Earth Day celebration is "Invest in Our Planet."
Corporations would be the first to understand the concept of investing for future growth and success—and mitigating business risks.
Get in touch today with Good360 to see how we can help you accomplish these goals from a sustainability perspective.