19 Jul

Disaster Recovery Work in Santa Barbara Hits Home for Good360 Team Member
How does it feel when the good you do every day intersects with your personal life, your family and the community you were raised in? Gratifying. Rewarding. Proud.
I've been a Program Manager at Good360 just shy of 8 months and I'm constantly and pleasantly surprised to learn all the ways in which we improve the world, both big and small.  Not only am I working for an organization whose sole purpose is to distribute "Goods for the Greater Good", but when it gets personal that makes it even sweeter.  I am always humbled by the work we do, and sometimes it can knock the wind out of you, but when I learned of the "Safe Spaces" we helped create in a school in partnership with Sonos and RH (Restoration Hardware) to benefit children affected by both recent wildfires and mudslides in the Santa Barbara area, it warmed my heart beyond words.  Why?
Good360 is headquartered in Alexandria, VA, almost 3000 miles away from this little school behind the hills of Santa Barbara, California.  It gets personal
fast because  two generations of my family went to that school — my father, his 3 siblings and 2 of my cousins all went to Cold Springs Elementary School.  My grandparents lived on the same property for over 60 years and this school is literally in their back yard, barely half a mile away.  I grew up visiting my grandparents and playing in that school's playground; then as a mom, taking my own kids to that same playground and always appreciating the beauty, history and tradition of that quaint little school.
Because of the ongoing drought across California, and the Santa Ynez mountain range behind the school, that community is highly vulnerable to fires every year.  In fact, my grandparents lost their house to a fire when I was just a kid in the 1970s and had to rebuild. I can't count the number of times they have been on "evacuation alert" ready to leave at a moment's notice. After the wildfires in December of 2017, my whole family knew the threat of the mudslides was imminent in that area with the predicted storms, and to see it unfold on the national news was unimaginable.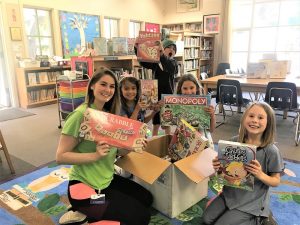 But, what could I possibly do living so far away? How could I help the community that is such a part of my foundation and helped shape who I am? I felt helpless. I've always known the life we live and the world we live in is all delicately connected.  As it turns out, the good I do every day contributed to the whole at Good360 and that in turn helped this little school in the hills behind Santa Barbara, and for that I am thankful.
Good360 Note:  Click here to read more about the "Safe Spaces" created by Good360 in partnership with Sonos and RH (Restoration Hardware) and see how disaster recovery needs also span the emotional and spiritual care needs of impacted communities.