04 Oct

No Time to Waste: Good360 Disaster Recovery Council Launches with Mandate to Promote Cross-Sector Collaboration and Creative Partnerships

Getting disaster recovery right has never been more important.

With three Category 4 hurricanes (Harvey, Irma, and Maria) making U.S. landfall in 2017, it is clear that more creative, less siloed strategies are needed to rebuild hard-hit communities as these increasingly destructive natural disasters become more common.

That's why collaboration and cross-sector partnerships were the big themes of the day at the inaugural and presciently planned meeting of the Good360 Disaster Recovery Council (GDRC), coming on the heels of those devastating events.

"The very nature of this Council meeting — bringing together private, public, and nonprofit organizations to share best practices, identify gaps, and ignite ideas — is all about collaboration," said Good360 CEO Howard Sherman. "The only way we can effectively address the current shortfalls in disaster recovery is to break through some walled gardens and come up with better solutions."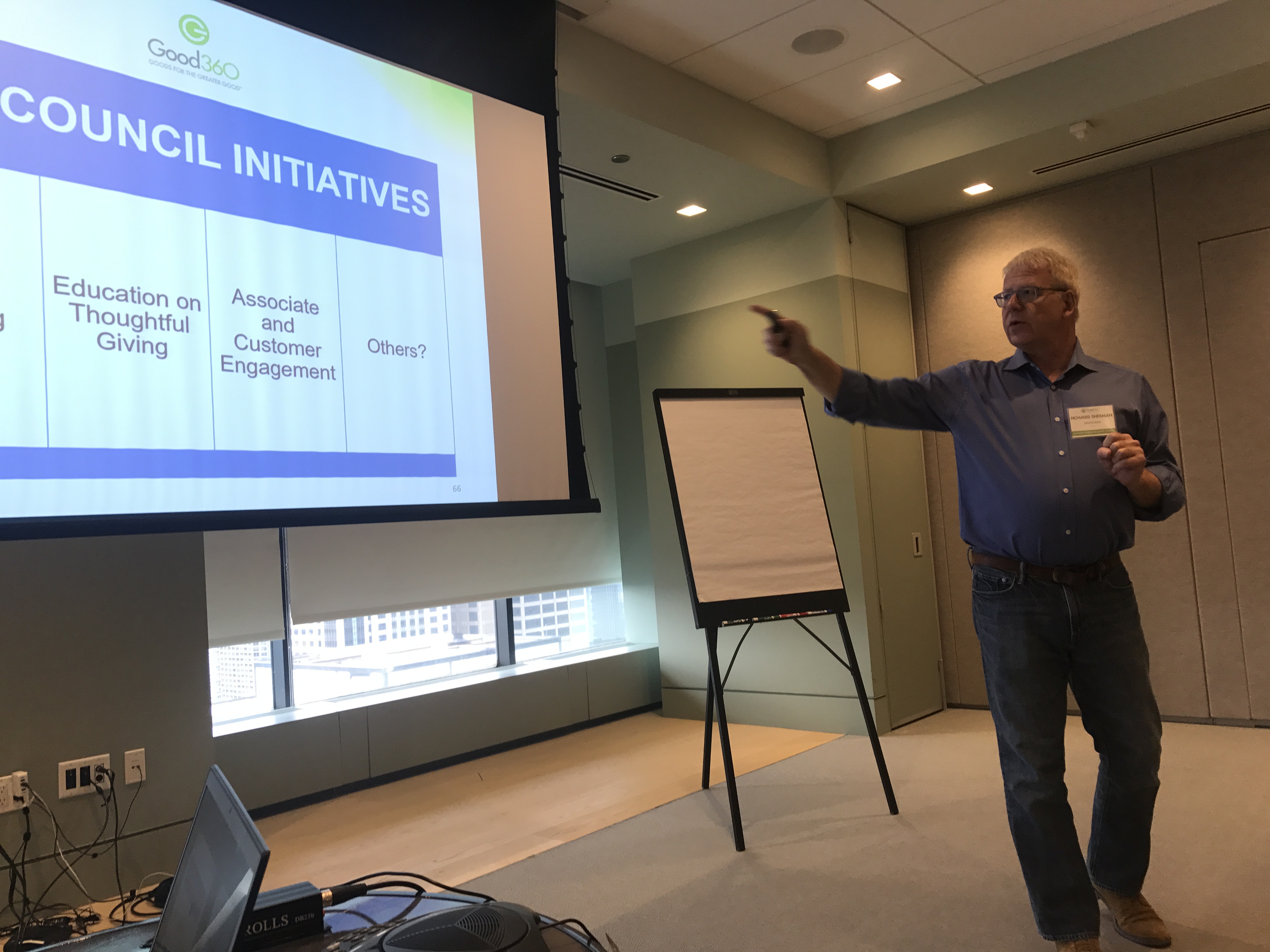 Good360 takes a long-term view of disaster recovery, addressing it through multiple phases: from preparedness to response, rebuilding and mitigation against future disasters. We established the GDRC to tackle critical gaps throughout this lifecycle of disaster management. We're especially focused on driving communication and collaboration between companies and nonprofits that will help mitigate wasted resources and the misalignment of needs and donations.
In large-scale disasters, it is clear that no single nonprofit, private sector company or public sector agency can do it all. Synergy across multiple sectors and organizations is key. Our aim is that the GDRC becomes a driving force for better communication and creative solutions in disaster recovery.
Convened in Chicago on September 26th and 27th, the GDRC pre-meeting networking mixer was hosted by RH (Restoration Hardware) at its local gallery, The 3 Arts Club, and the working sessions were hosted by United Airlines. Council members and event attendees included representatives from United Airlines, RH, The UPS Foundation, Coyote Logistics, CVS Health, Wrangler, Ecolab, The US Chamber of Commerce and More Than Me.    
Dr. Donald Wuebbles, Professor of Atmospheric Science at the University of Illinois and preeminent global expert on climate change delivered the keynote address, setting the stage for the need for heightened focus on how we collectively respond to the increasing frequency and intensity of natural disasters.  
Joe Ruiz, Director of Humanitarian Relief at The UPS Foundation shared illuminating best practices from the corporate world in disaster relief and recovery, sparking discussion and information-sharing between attendees.   
Breaking old paradigms and creating new solutions
Much of the one-day conference focused on addressing three critical challenges for the disaster recovery community:
How to be more proactive rather than reactive in disaster response and recovery. This may require adapting current philanthropic models so that anticipation and preparation are key attributes of the program design.

How to be doers and not just thinkers in the realm of disaster recovery. The goal with every initiative is to develop tangible action items and concrete next steps rather than vague recommendations.

How to engineer new paradigms in disaster recovery and innovate with creative partnerships. Organizations should explore any and all effective solutions, even if it requires unconventional partnerships (such as between industry competitors).
In short, the ultimate goal is to get more done with a multi-sector, collaborative model that puts the "problem in the middle" — especially when the problems seem to be only getting bigger.
The biggest problem of our time is man-made
Climate change is making severe weather more intense around the globe, Dr. Wuebbles noted in his presentation.
Disruptions largely driven by human activity and its associated pollution have produced weather changes that are happening 10 times more rapidly than what nature would normally allow in the climate system, he said. Dry areas are becoming drier, wet areas are becoming wetter, and much of the precipitation is coming as large and often catastrophic events.
We're seeing more and more wildfires, droughts, and torrential rainfall —  and at more extreme levels. For instance, three "500-year floods" have occurred in the Houston area in the past three years alone.
Needless to say, the sense of urgency was palpable throughout the day's talks.
The GDRC agreed upon three key initiatives to pursue now:
1. Data Mapping
Disaster recovery work is largely driven by decades of experience, as it should be. However, we believe there is tremendous untapped opportunity in leveraging big data to better understand the impact of natural disasters and how to best recover from them.
For instance, if we could quantify the destruction of a Category 5 hurricane in the Southeast United States based on historical data, this knowledge could help determine future efforts for preparation, mitigation, response and recovery. Additionally, knowing how a Category 4 hurricane in the Gulf of Mexico may be different than a similar storm in the mid-Atlantic would lead to important insights for all stakeholders.  
Much of this data exists already, but it is often being captured by private corporations and doesn't get shared with other companies, federal agencies, or the public at large.
The GDRC will look to uncover other examples of data-driven insights, such as "user generated" data from volunteers and relief workers on the ground, as well as data from official sources such as NASA and the National Oceanic and Atmospheric Administration.
The idea is to develop a central hub for this data so that the information can be freely shared and more can be done with it to inform future disaster recovery work.
2. Education on Thoughtful Giving
The average person has little understanding of the complexities of disaster recovery. In the wake of major catastrophes such as Hurricane Harvey, many companies will organize "employee drives" to collect clothes, food, and other similar donations.
The problem is that this kind of impulse giving doesn't always match up with the actual needs of impacted communities on the ground, either in the immediate aftermath or months or years later during the long-term recovery. Many companies, such as CVS, actually prohibit such employee drives, but they still sometimes happen in individual stores.
One idea is to encourage companies to create an "internal playbook" that lays out the approved steps for how employees and customers can and should respond during a natural disaster. This playbook would guide the giving process so that donations don't go to waste and internal and external resources are used more effectively.
The Council will explore such strategies to promote more purposeful giving with private corporations and the public at large.
3. Employee and Customer Engagement
Embedded in the act of giving is education. There's a need to teach people how to more effectively react to a major disaster, while also acknowledging their need to respond.
Companies can play an important role in enabling their associates and customers to give thoughtfully though the implementation of engagement platforms and programs that direct employee and customer contributions to nonprofit partners, track the donations, and collect stories of impact to share.
The GDRC also discussed what else companies can do to effectively and efficiently direct employee and customer engagement during a time of disaster.
According to Joe Ruiz at The UPS Foundation, one of the best things that companies can do is leverage their existing expertise and competitive advantages. Instead of relying on "checkbook philanthropy," private corporations should look to tap into their unique resources and see how those could be used to respond to a major disaster.
For example, UPS not only utilizes its vast logistics network to get relief supplies into disaster zones in times of need, it will also loan out its logistics experts and managers to assist agencies and nonprofit organizations on the ground.
Next steps and the path forward
Clearly, there is a tremendous amount of important work ahead for the GDRC. This initial meeting laid the important groundwork to identify the key initiatives and begin to gather ideas for creative solutions.
In the months and years ahead, the GDRC will become a hub of knowledge on best practices in disaster recovery. The hope is that it will transform the way many companies now respond to major disasters to prevent massive waste and efficiently guide the genuine desire of employees and customers to make a meaningful contribution.