29 Jul

Car Parts Help The Yeshiva Get Moving Again
DONATION: CARQUEST CAR PARTS
LIVES IMPACTED: 100+
Yeshivas Lubavitch High School of Cincinnati, OH is an institution of higher learning with both a full high school as well as a rabbinical ordination program. As part of our mission, we also provide services for those who are in need in our community. We have a food pantry, we arrange classes and activities for the disadvantaged and youth, and much more.
The Yeshiva receives many gracious donations of used cars from the local community. These cars are a huge help and ensure our teachers and students can get to where they need to be. These cars are often much older, however, and usually need repairs to work properly. Thanks to Carquest, w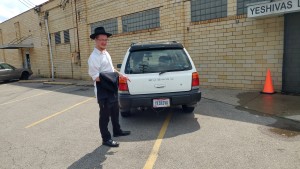 e were able to receive many car parts that were a huge help to our school. They were a big money saver. The cars are a vital part of our day-to-day activities, so these parts truly helped us out.
In addition to repairing our own cars, we were also able to donate various parts to the local community. Those who were in need of car parts were able to receive them without any cost. They very much appreciated it to say the least. As car parts and repairs can often be very costly, the donation was a big financial relief to many. The impact is very noticeable among those at the school and in the community. Thank you to Good360 and Carquest for all that you have done.
Website: www.ylcincinnati.com