22 Feb

A Passion for Improving Lives with Logistics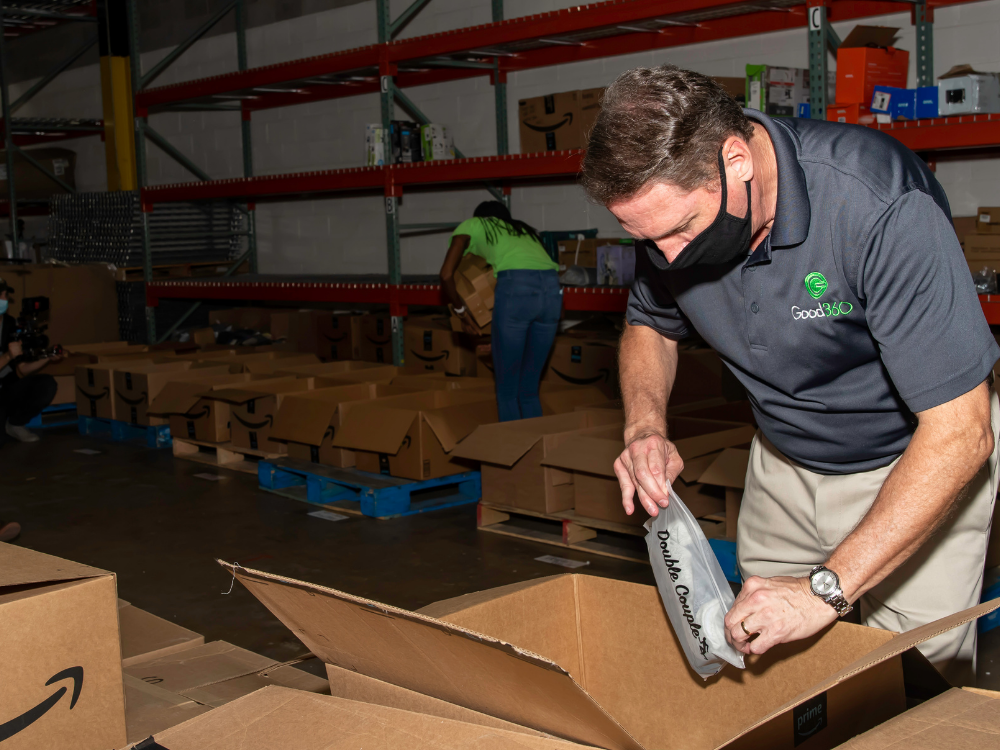 Logistics with a purpose.
That's the best way to sum up Matt Connelly's storied career as he leaves the helm of Good360 as its chief executive officer and returns to the private sector.
Growing up within a global supply chain
Connelly started his career in logistics as a driver for UPS, making the rounds in and around historic Cambridge, Mass. That first job handling packages taught him several invaluable lessons, but perhaps none more so than seeing firsthand the critical role of supply chains in the success of nearly every organization, from mom-and-pops to the Fortune 100. 
Over the next 32 years, Connelly had the opportunity to advance through the ranks of UPS, taking on key operations and engineering positions. His tenure included playing an integral role in the formation of UPS Supply Chain Solutions (UPS SCS).
UPS SCS transformed the shipping giant from a domestic, small-package provider to a global, multi-model logistics company. For Connelly, the experience of designing and shaping air, ocean and surface networks forged an understanding of how impactful improving the flow of goods and services can be to the quality of life for those living in under-served communities.   
Bringing logistical know-how to the nonprofit sector
At UPS, Connelly formed a particular partnership that would prove pivotal to his career. That collaboration was with Eduardo Martinez, then-president of The UPS Foundation, which leads the company's many philanthropic efforts around the world.
Connelly became a critical partner for the foundation as it increased its focus on providing in-kind support for nonprofit organizations. This meant the foundation would be leveraging the vast UPS supply chain to move critically needed goods around the world. Connelly served as the go-to person within UPS as the foundation developed its Humanitarian Relief Program and global NGO support initiatives.
At times, the company's ability to get goods into the most logistically challenging locales was a lifesaver—literally. Connelly recalls one particular relief mission to move 75 metric tons of ready-to-eat nutritional bars from Copenhagen, Denmark, to the Sahel of Africa, where a devastating famine was taking place.
Connelly developed a passion for helping The UPS Foundation solve such challenges as it responded to numerous regional conflicts and natural disasters around the globe. This work led him to serve on the UPS Humanitarian Relief Program Steering Committee and the American Red Cross Advisory Council, as well as become an advisor to the UNICEF Supply Division.
Good360 era defined by massive growth and opportunity
Connelly's background working with NGOs made him an excellent addition to the board of directors at Good360, where he would serve for a decade (including as co-chairman for the last four years). When Good360 needed a new CEO in 2019, Connelly was a natural choice given his deep knowledge of global supply chains and experience collaborating with some of the organization's largest corporate donors.
Connelly's time at Good360 has been marked by the unexpected upheaval of the COVID-19 pandemic—but also by the opportunity to vastly improve the organization's capacity to close the need gap. 
Tapping into his logistics expertise developed over decades at UPS, Connelly oversaw major improvements in Good360's operational infrastructure. For example, Good360 opened five new Regional Operating Centers to more efficiently move goods to its expanded network of 100,000 nonprofit members. Additionally, the organization built up its reverse logistics capabilities to help companies give customer returns a useful second life as donated goods.
All of this work culminated in a new milestone: For the first time, Good360 distributed more than $1 billion worth of donated goods. Connelly also steered the organization through the unusual challenges brought on by the pandemic, including an unprecedented level of need from all corners of the country and world.
His knowledge of supply chains withstanding, Connelly's ability to develop people and build a winning culture at Good360 will be his hallmark and legacy. This was especially evident during the pandemic as the team scaled its impact four-fold. 
Pursuing the next chapter in logistics, but still with a purpose
Connelly may be departing Good360, but he won't be leaving behind his passion for leveraging logistics for the greater good.
In his next endeavor, he plans to help companies in the commercial sector better manage disruptions in global supply chains. A more efficient supply chain helps everyone, from businesses to NGOs, do more and do better.
This is the lasting impact that Connelly plans to keep making in his next chapter.