11 Feb

A Milestone for Hygiene and Health Recovery Giving
If the pandemic has taught us anything it's the critical importance of basic hygiene — washing your hands, covering your mouth and nose when you cough or sneeze, staying home when you're sick.
But the reality is that "most people don't wash their hands very well," even though such simple practices "are absolutely proved, by the data, to protect your health," said Paul Biddinger of the Harvard T.H. Chan School of Public Health. 
Clearly, greater access to personal hygiene products such as masks, hand sanitizer and wipes can help slow the spread of COVID-19 and other infectious diseases. There are many essential workers such as mail carriers and grocery delivery folks who can't easily run to a restroom to wash their hands while on the job. Wipes make it easy to stay clean and safe.
We also know that personal hygiene products and personal protective equipment (PPE) are also critically needed in the aftermath of a major disaster. Cleaning up debris, flooded homes and burn areas often present health and hygiene challenges. Access to cleaning products are an essential part of immediate and long-term disaster recovery efforts. 
That's why Good360 reached out to Nice-Pak, a leading global producer of wet wipes, after Hurricane Harvey devastated large swaths of the American Southwest in 2017. Nice-Pak also responded to the most active hurricane season on record with substantial shipments of wipes to help Lake Charles and Saint Thomas (USVI) residents salvage their homes and personal items while maintaining personal hygiene in 2020. 
"The convenience and portability of wipes make them critical to mitigating the health risks that come after a natural disaster," said Jim Alvey, Vice President, Disaster Resilience and Donor Relations, Good360. "Hygiene insecurity is one of the biggest barriers on the road to recovery, and wipes provide an efficient and effective solution."
All together, Nice-Pak and its sister company PDI have donated more than $1 million worth of wipes to Good360. PDI manufactures surface and skin hygiene wipes for healthcare and foodservice. Nice-Pak and PDI are purpose-led pioneers in wet wipes, so partnering with Good360 was a natural extension of their dedication to corporate social responsibility.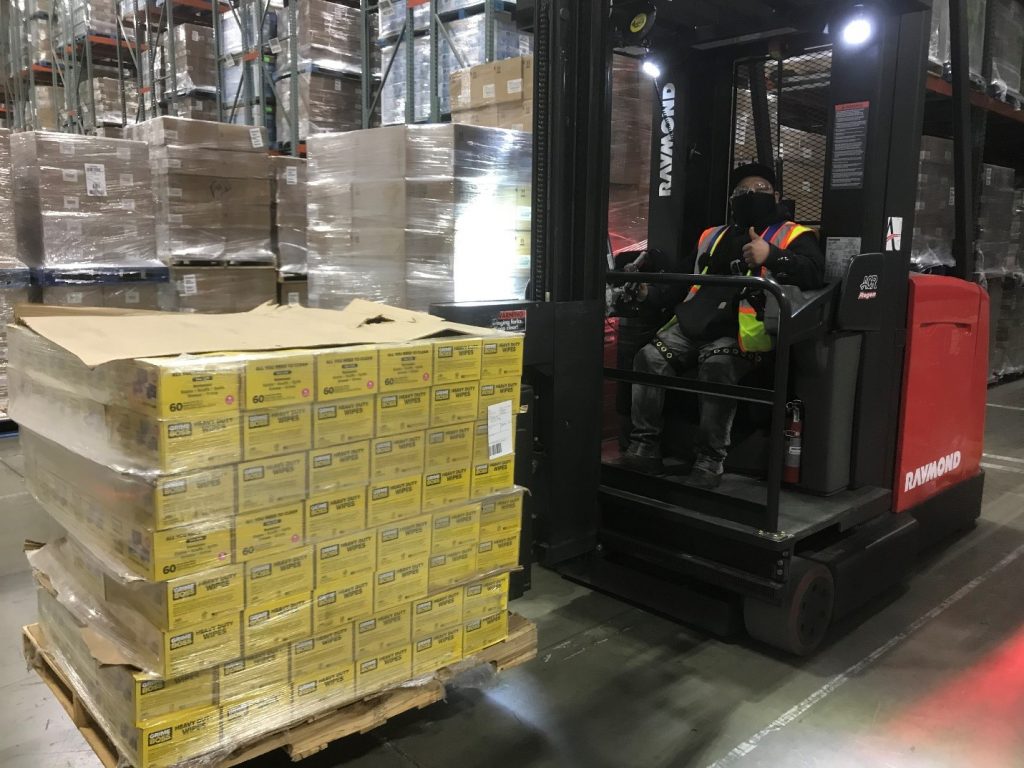 While Nice-Pak and PDI has a long tradition of supporting communities and donating to disaster relief, the partnership with Good360 allowed the company to strengthen and organize its efforts to ensure its wipes get to the right place at the right time. The need for wet wipes has been unprecedented during the COVID-19 pandemic. Good360 has been hard at work leveraging its vast network to distribute more than $250 million worth of goods for COVID relief.
Good360 deployed Nice-Pak wipes to thousands of families in quarantine at the start of the pandemic, and most recently, to help people experiencing homelessness in New York City.
"At our hygiene kit giveaways, wipes are always among the most requested items. They're incredibly useful for staying clean throughout the day, as many of our neighbors often have limited access to sinks or showers," said Chloe Trujillo, founder and president of SustainABLE START and Good360 recipient of Nice-Pak wipes.
"Cleaning their hands, face, and body not only protects themselves and others — especially as those experiencing homelessness are among the most susceptible to transmissible diseases such as COVID– but it also gives them dignity and motivation to push through this difficult period of their life," Trujillo added.
"Working with Good360 is a great demonstration of our ongoing commitment to educate and support communities," said Deb Fillis Ryba, Director of Corporate Social Responsibility at Nice-Pak and PDI. "Over the years they have been the perfect donation partner, not just getting our wet wipes to those who need them but also in educating about the critical importance of supporting hygiene for vulnerable populations throughout crisis situations."