02 Sep

15 Years After Katrina: How Good360 and SBP Are Still Helping to Rebuild Lives in New Orleans
The timing was uncanny.
Fifteen years after Hurricane Katrina slammed into New Orleans — nearly to the day — Hurricane Laura made landfall this past week in Louisiana with a ferocity that eerily echoed the 2005 disaster.
Fortunately, despite coming in as a Category 4 behemoth, Laura didn't wreak nearly the same level of destruction as Katrina. That historic hurricane led to more than 1,800 deaths and $125 billion in damage, while displacing more than a million people in the Gulf Coast region.
But Laura does serve as a reminder that the ghosts of Katrina remain with us. After a decade and a half, there's still work to be done. While much of New Orleans is now thriving, the almost all African-American community of the Lower 9th Ward has seen a patchwork recovery. With homes costing more to build than sell, just about every home that gets built in the neighborhood needs to be subsidized. There are still roofs that need to be fixed.
Good360, in collaboration with our corporate donors and nonprofit partners such as SBP, has been working to provide recovery aid since the beginning of the disaster and in the years since. We know that the long road to recovery from a disaster on the scale of a Katrina or Hurricane Harvey should be measured in years and even decades, not months.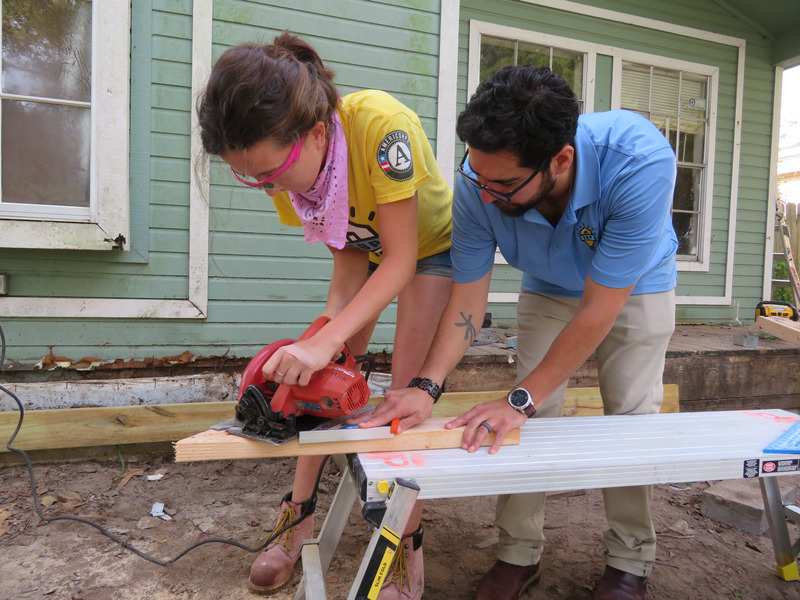 As the region has suffered through additional disasters, such as the massive flooding in 2016, Good360 has returned to help rebuild homes.
The good that came out of Katrina
One of our most important collaborations in New Orleans has been with SBP. Then known as the St. Bernard Project, the nonprofit organization was created in the aftermath of Katrina by Zack Rosenburg and Liz McCartney. Six months after the hurricane, the now-married couple left their Washington, D.C., home to volunteer and support relief efforts in St. Bernard Parish.
But they were utterly surprised by what they saw when they arrived — hardly any rebuilding had begun in the neighborhood.
"It literally looked like the storm had just passed through," McCartney said. "There were massive piles of debris all over. There were still houses splayed out across the street, cars on top of homes. It was very shocking to see."
What they discovered in those first months in New Orleans was a scenario that they would see repeated again and again in other major disasters where SBP and Good360 have brought in their resources, including after the devastating tornadoes in Joplin, Missouri, and after Hurricane Sandy in New York and New Jersey: The excruciatingly slow pace of recovery. Storm-weary residents befuddled and hampered by excessive red tape, especially to access federal aid grants. People who didn't understand their risk, such as knowing the difference between having home insurance versus flood insurance.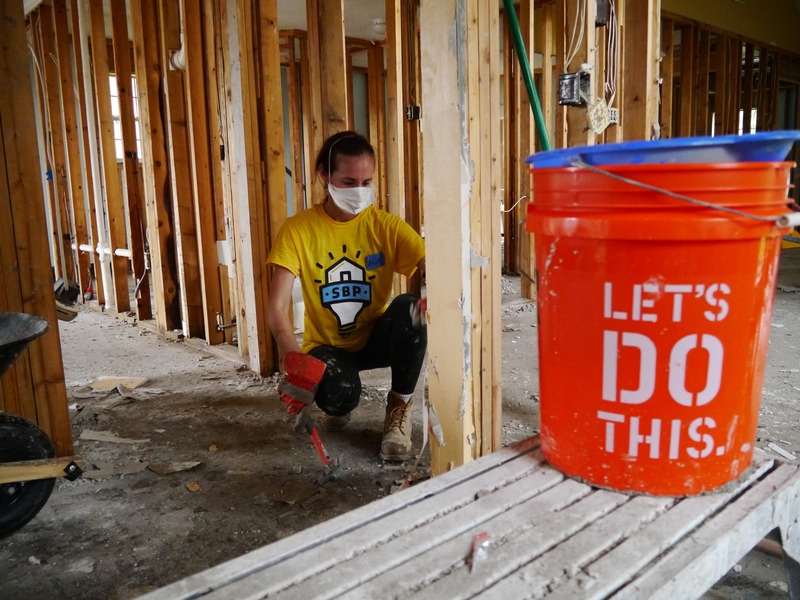 Collaborating with Good360 for greater impact
What the SBP founders came to realize is that they needed to educate people about disaster planning and mitigation well before a catastrophe strikes, as well as look for other ways to build resiliency in marginalized and low-income communities to help them better withstand the next hurricane, tornado or flood.
After rebuilding 600 homes for families hard hit by Katrina, the couple vastly expanded SBP's mission by focusing on pushing for systemic changes that would "shrink the time between disaster and recovery."
This larger effort led SBP to join the Good360 Disaster Recovery Council, where they can share best practices and resources with other rebuilding organizations and socially responsible corporations.
Good360 has also partnered with SBP to provide home goods, appliances, furniture, building materials and other donated products to support its Opportunity Housing Program, which creates affordable housing and rental opportunities for low-to-moderate income families.
"Good360 helps us maximize in-kind donations and cash donations to help the greatest number of people possible," McCartney said. "The product donations allow us to reduce the cost of getting these homes ready for families to live in. We pass along those savings to the buyer or renter. It's a great partnership and a win for everyone."
Together, SBP and Good360 are tackling one of the hardest parts of disaster recovery: creating resiliency for the long haul. With support from partners, including Good360, SBP has rebuilt homes for more than 2,300 families across the country and in the Bahamas.
"There aren't a lot of organizations that stick around and focus on long-term recovery, and work for years to implement programs that are going to help people who need it most before they reach their breaking point," McCartney said. "Our dream is to put the rebuilding side of our organization out of business because we are doing such a good job mitigating their risk and building resiliency before a disaster happens."