Eight Days of Hope: Good360 Helps Rebuild Flooded Homes in Louisiana
The rain began on August 12, 2016.
First, a few inches. Then two feet of water in a single weekend. Entire districts disappeared under floodwaters.
The flooding would claim 13 lives, prompt 30,000 water rescues, and leave 149,000 homes heavily damaged or destroyed.
"It was devastating," recalled Aimee Garcia, a resident. "We were sitting watching TV and all of a sudden, the water started coming in through all of the doors. We didn't know if we were going to get out in time. We've been completely uprooted. We lost everything. Everything."
But most of the country barely noticed what was happening in Louisiana. The floods went unnamed, contributing to the lack of media attention. Nonprofits on the ground raised only thousands of dollars to aid displaced families, when millions were needed to support the community's long-term recovery.
Ten months after those record-setting floods, thousands of families are still waiting on home repairs — some have gone without a bed to sleep in for months. That's where Good360, Eight Days of Hope, RH (Restoration Hardware), the UPS Foundation, and Tempur-Sealy were able to step in. Over a single week and a day, these organizations partnered up to help nearly 200 families rebuild and replenish their homes.
"Last October, two and a half months after the floods, I had a chance to come down to Louisiana," recalled Good360 CEO Howard Sherman. "I was just really stunned at the level of devastation and the level of displacement of families, and the destruction of homes and communities in Louisiana from those floods. It was very clear to me in that moment that we needed to mobilize, we needed to do something to help the communities and the families in this state."
Simple Concept, Significant Impact
Good360's concept is a simple one: transforming lives by mobilizing companies to help nonprofits. Serving a network of more than 57,000 pre-qualified nonprofits, we partner with hundreds of companies each year to distribute needed goods throughout the U.S. and around the world. In 2016 alone, we distributed $400 million in goods.
We are especially focused on aiding communities affected by major disasters, and getting them the most appropriate products at every stage of their recovery. It can take months and even years for some communities to fully rebuild after a disaster. But the public's interest — and the donations of money and products that come with it — isn't necessarily sustained through the "long tail" of recovery. We are committed to meeting this major gap in long-term disaster recovery.
"It's critical to the community's recovery process that we turn our attention to these long-term efforts so that they're not orphaned," said Tiffany Everett, Good360's Director of Disaster Recovery.
For the rebuilding effort in Lafayette, Good360 reached out to leading luxury home furnishings company RH, which agreed to make a significant donation of the brand's products to help bring these homes to life, including beds, dining tables and seating, living room sofas and chairs, rugs, bed and bath linens, and other essentials for living. Longtime Good360 partner Tempur-Sealy also provided new mattresses, a huge expense for families in need.
We also had the opportunity to partner with Eight Days of Hope for the first time. Born in the aftermath of Hurricane Katrina, the faith-based organization stages large-scale recovery efforts in a single location, usually 6-12 months after a major disaster. In Lafayette, the group recruited, housed, and fed 2,400 volunteers from all over the world.
Teams of 20 or more volunteer workers went to pre-identified homes to begin mucking and gutting the interiors, redoing the plumbing, tearing out drywall, fixing roofs, and rebuilding the structures from the ground up.
For many affected families, there was simply no way to get these repairs done without assistance from an organization such as Eight Days of Hope, said president and founder Stephen Tybor III.
"I met a lady last night. She's been sleeping on her floor for eight months," Tybor recalled. She didn't have any of the things you and I take for granted: a bed, a chair to sit on, electricity that works… We've given them a ton of hope and, in essence, a new home."
"When you look at the magnitude of what needs to be accomplished, it's clear that no one organization can do it all," added Good360's Sherman. "Eight Days of Hope has developed this extraordinary program of mobilizing an army of volunteers to come in in eight days and make a huge difference in rebuilding homes."
Making Houses into Homes
On June 1, 2017, truckloads of furniture began arriving at Blackham Coliseum in Lafayette. Over the next five days, 10 truckloads of furnishings, bedding, and mattresses would be brought in to support the recovery efforts.  
On the third day of the eight-day event, a line began forming outside the front door with families who had been personally invited to the event. As each family signed in, they were paired with a team leader and RH interior designer, and began walking around to select their new furniture. Many were shocked by the quality of the new, high-end furnishings.
The families were told they could pick out three large items (bed, sofa, dining set, living room chairs) and all the bedding, pillows, rugs and bed frames they needed. RH staff helped them select pieces that would go well in their homes and gave them a sense of dignity in the gift they were about to receive.
Many of them began to cry and shared their harrowing stories of being caught in the floodwaters.
"It really shakes your stability when everything that you've known as home isn't there anymore," said Bridget Peralta, a mother of three who experienced the loss of her home as well as her parent's during Hurricane Matthew. "It's more than just walls and flooring and furniture."
Peralta was ecstatic about getting her floors and kitchen repaired.
"If you would have asked me a year ago if I would have been over the moon about a floor….I probably would have thought you were crazy," she said. "But having had cement floors for the past 10 months…I have a floor and a kitchen that I will be able to use. It's been amazing. I'm so, so grateful."  
Homeowner Aimee Garcia teared up as she conveyed her family's feeling of uprootedness following the flood, describing the work of Good360 and Eight Days of Hope as "truly helping people when they're at their lowest."
"You don't even know how much you're helping everybody," Garcia said. "What y'all are doing for us is amazing… You're helping us to get furniture. You're helping us to get our lives back."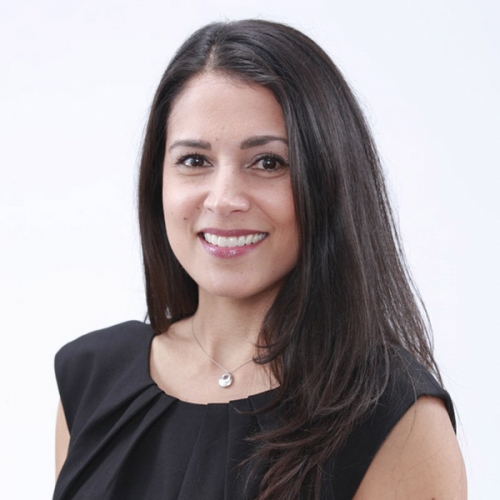 Shari Rudolph is Chief Marketing Officer of Good360 and is an accomplished retail, digital commerce and media executive with a strong track record of building audience, revenue and brands. Shari's previous experience includes management consulting as well as various executive and leadership roles at both start-ups and large media and retail e-commerce companies in Southern California, New York and Silicon Valley. She is also an adjunct professor teaching classes in marketing, advertising and entrepreneurial studies and she earned her MBA from The Anderson Graduate School of Management at UCLA.